Cash Homebuyers Pull Back as Foreclosures Vanish in U.S.
Prashant Gopal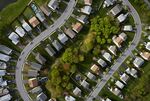 The share of U.S. home purchases made with cash has fallen to a five-year low as investors pull back from a property market that's rebounding without them.
Fewer than 25 percent of single-family home and condominium purchases were all-cash transactions in May, the lowest level since November 2009 and down from a peak of more than 42 percent in February 2011, research firm RealtyTrac said in a report Thursday. The share of acquisitions by institutional investors, defined as those making at least 10 purchases in a calendar year, fell to 2.4 percent, the lowest in more than 15 years of RealtyTrac data.
The U.S. housing market is returning to health eight years after the foreclosure crisis began as the job market improves, demand increases and mortgage delinquencies stabilize. Contracts to purchase previously owned homes rose in May to a nine-year high, the National Association of Realtors said earlier this week.
"May really marked a big shift in the market from one driven by investors and other cash buyers to a market that is more reliant on traditional buyers," Daren Blomquist, vice president at Irvine, California-based RealtyTrac, said in a telephone interview. "Prices have risen, pricing some of these investors out of the market and, as the distressed market dries up, they have fewer properties to pick from."
The share of distressed sales dropped to less than 11 percent in May, a record low, from more than 18 percent a year earlier, RealtyTrac said. Such transactions "will fall further in the upcoming months," said Lawrence Yun, chief economist of the National Association of Realtors.
'Far Fewer'
There are "simply far fewer mortgages in the serious delinquent stage," Yun said in a housing forecast released Wednesday. "In fact, if one specializes in foreclosures or short sales, it is time to change the business model."
As the supply of foreclosures shrinks, institutional owners of single-family rental homes are consolidating and buying in bulk rather than at the courthouse steps.
"We have slowed the acquisition pace of vacant homes from 2014 and first-quarter 2015 levels," David P. Singelyn, chief executive officer of American Homes 4 Rent, the largest publicly traded single-family landlord, said on a May 8 conference call. "This will assist in stabilizing our operations as the number of non-revenue producing homes in the acquisition and renovation functions continues to decline."
The top five metropolitan markets for cash sales in May were all in Florida, led by Naples, with 56 percent of transactions completed without mortgages, RealtyTrac said. Rockford, Illinois, had the most institutional-investor purchases, accounting for more than 13 percent of acquisitions.
Flint, Michigan, had the highest percentage of bank-owned sales, at 16 percent, followed by Mobile, Alabama, and Tallahassee, Florida, according to RealtyTrac.