Scott Walker-Backed Basketball Arena Removed From Wisconsin's Budget
John McCormick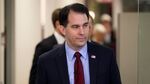 Governor Scott Walker, an all-but-declared Republican presidential candidate, suffered a setback Wednesday as Wisconsin lawmakers removed an arena project he supported from the budget and reduced the amount of debt he wanted to issue for transportation projects.
Walker's fellow Republicans, who control the legislature, said a proposed arena for the Milwaukee Bucks basketball team will need to stand on its own in a separate bill, a move Walker opposed because it leaves its future less certain.
"There will be enough votes to get the arena completed," Senator Scott Fitzgerald, the majority leader, told reporters at a news conference in Madison. "I'm very optimistic."
In a move that upset some conservatives, Walker had proposed using taxpayer money to pay for half of the new $500 million arena to keep the team from leaving the state. He's argued that paying the subsidy is better than losing the tax revenue the team generates.
The state's four top legislative leaders are scheduled to meet with the governor Thursday to discuss ways to secure votes for the arena's passage.
The Assembly's speaker, Republican Robin Vos, told reporters that legislative leaders have also decided to reduce the transportation bond from Walker's proposed $1.3 billion to $850 million.
Democratic and Republican lawmakers balked at Walker's plan and had pushed for increases in gas or other taxes, which he rejected.
The transportation budget will include money to study ways to raise other revenue, including possibly adding toll roads, Vos said.
The budget negotiations, which Walker wanted to conclude no later than Tuesday's end of the fiscal year, threaten to distract from his presidential campaign announcement.
Walker has said he'll make his plans known the week of July 13, potentially forcing him to violate a long-held pledge to complete the budget first. The state will continue to operate at existing spending levels until the budget is passed.