UN Atomic Chief to Visit Iran as Nuclear Talks Gain Momentum
Jonathan Tirone, Kambiz Foroohar and Indira A.R. Lakshmanan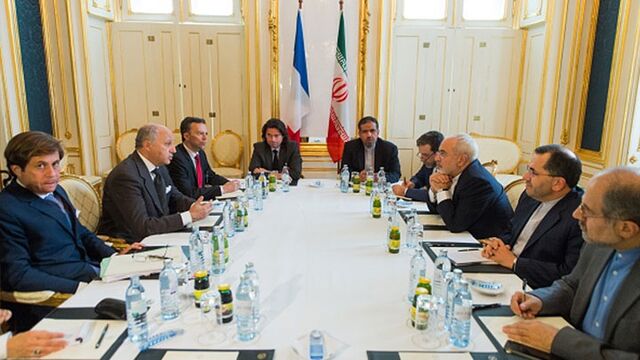 The United Nations atomic agency's chief will meet Iran's president on Thursday, in an effort to "accelerate" probes into the country's nuclear past that may hinder an accord with world powers.
Yukiya Amano, director general of the International Atomic Energy Agency, will hold talks with Hassan Rouhani in Tehran, the Vienna-based IAEA said in a statement. He'll also meet the secretary of Iran's Supreme National Security Council, Ali Shamkhani, a key official with oversight of the military, according to Iran's state-run IRNA news agency.
"Discussions are expected to address ongoing cooperation between the IAEA and the Islamic Republic of Iran," the agency said in an e-mail. They'll seek "to accelerate the resolution of all outstanding issues related to Iran's nuclear program, including clarification of possible military dimensions."
Nuclear negotiations between Iran and a group of six nations led by the U.S. are in their fifth day in Vienna, where Amano has stepped up his participation in the talks. To receive full sanctions relief under an agreement, the IAEA will need to provide an assessment of possible military dimensions of Iran's nuclear past. The agency will also need to verify and monitor implementation of any deal.
Parchin Visits
Amano's meeting with Shamkhani is significant because the IAEA has sought information about links between Iran's military and its civilian nuclear program. The agency has also long sought to re-visit Iran's Parchin military complex, where investigators claim to have credible evidence that nuclear-related experiments took place.
Since allowing the IAEA two visits to Parchin in 2005, which didn't yield any evidence of violations, Iran has rejected requests for inspectors to return, citing concerns over national security. Shamkhani, a former military commander who served as minister of defense for eight years until 2005 and then as an adviser to Supreme Leader Ayatollah Ali Khamenei, may be able to help the agency conclude its investigation.
U.S. Secretary of State John Kerry and Iranian Foreign Minister Mohammad Javad Zarif are continuing talks at the Palais Coburg in the Austrian capital. Diplomats say momentum toward a deal has been building.
Zarif said Wednesday that no deadline has been set. "We have made progress and we will make progress and we will use every opportunity to make progress," he said after his latest meeting with Kerry.
French Foreign Minister Laurent Fabius and his German counterpart, Frank-Walter Steinmeier, will rejoin the talks on Thursday in the Austrian capital, where work on the final text of an agreement is underway.
Oil Exports
The document will consist of many pages with multiple appendices, according to a U.S. administration official, who asked not to be named in line with diplomatic rules.
For Iran, holder of the world's fourth-biggest oil and second-biggest natural-gas reserves, an agreement would mean the lifting of trade and financial sanctions that have hobbled its economy. For the U.S. and Persian Gulf nations wary of Iran's influence, it would restrict the Islamic Republic's ability to make nuclear weapons and give monitors early warning if it ever tried to do so. Iran says its program is entirely peaceful.