U.S. Sues to Block Electrolux's GE Appliance Takeover Bid
Andrew Harris, David McLaughlin and Richard Clough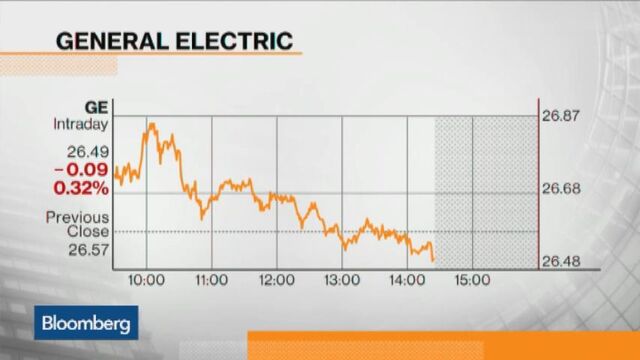 The U.S. government sued to block Electrolux AB from taking over General Electric Co.'s appliance business, warning that the $3.3 billion deal would hurt consumers.
The sale "would leave millions of Americans vulnerable to price increases for ranges, cooktops and wall ovens, products that serve an important role in family life and represent large purchases for many households," Leslie Overton, a deputy assistant U.S. attorney general, said in a statement.
Electrolux agreed in September to acquire the century-old GE unit in a deal that would put the Swedish company on par with industry leader Whirlpool Corp. in the U.S. The sale would add GE brands such as Hotpoint to an Electrolux lineup that includes AEG stoves and Frigidaire refrigerators.
Electrolux's American depositary receipts tumbled 9.3 percent, the most since August 2011, to $57.03.
GE's appliance divestiture is part of Chief Executive Officer Jeffrey Immelt's push to refocus on manufacturing units making industrial products, such as gas turbines and jet engines. GE is also selling about $200 billion of assets from the GE Capital unit that imperiled the company during the 2008 financial crisis.
Joe Sims, an antitrust lawyer for Electrolux at Jones Day, defended the deal during a conference call with reporters. Appliance retailers including Home Depot Inc. and Best Buy Co. have considerable bargaining leverage with suppliers to keep prices in check, he said.
Negotiations Opening
Electrolux is open to negotiating a settlement with the government to resolve the complaint filed Wednesday in federal court in Washington, he said. If one can't be reached, the companies are ready to contest the lawsuit, Sims said.
"We would be perfectly willing to come to some acceptable accommodation with the division," he said. "We've had those discussions, so far they've been unsuccessful. We continue to be open to those discussions."
GE, based in Fairfield, Connecticut, and Electrolux both said they intend to close the deal this year.
In 2006, the Justice Department under Republican U.S. President George W. Bush approved Whirlpool's $1.7 billion acquisition of Maytag, saying cost savings and other efficiencies of that deal suggested the "transaction is not likely to harm consumer welfare."
That decision came after months of scrutiny from the department, including questioning company executives under oath.
Whirlpool Share
At the time, the acquisition gave Benton Harbor, Michigan-based Whirlpool more than 70 percent of the U.S. market share for washers and dryers, and almost half of the dishwasher sales.
Completing the GE appliance unit purchase would give Stockholm-based Electrolux control of about 40 percent of the U.S. appliance market, according to 2013 data from research firm IBISWorld.
Electrolux and Whirlpool together would have more than three-quarters of U.S. sales, the firm said.
The companies may be able to propose a settlement to resolve the government's concerns, as Anheuser Busch InBev NV did when it won approval to buy Grupo Modelo SAB in 2013 after being sued by the Justice Department.
GE rose 0.3 percent to $26.66 in New York trading Wednesday. Whirlpool fell 1.2 percent to $171.
In the so-called contract channel, where retailers sell in bulk to homebuilders and property managers, GE, Electrolux and Whirlpool control more than 90 percent of sales of cooking appliances, the U.S. said.
Retail Sales
The GE unit sale would hurt competition in both the contract channel and in retail sales, according to the government.
"If the proposed acquisition is not enjoined, Electrolux likely would find it profitable to increase the prices of many of the combined firm's cooking appliance models, knowing that enough purchasers deterred by the price increase from buying those products would instead purchase other products that it makes or sells," the U.S. said.
The case is U.S. v. AB Electrolux, 15-01039, U.S. District Court, District of Columbia (Washington).