U.S., Europeans Secure Guarantee to Reimpose Iran Sanctions
Henry Meyer, Kambiz Foroohar and Indira A.R. Lakshmanan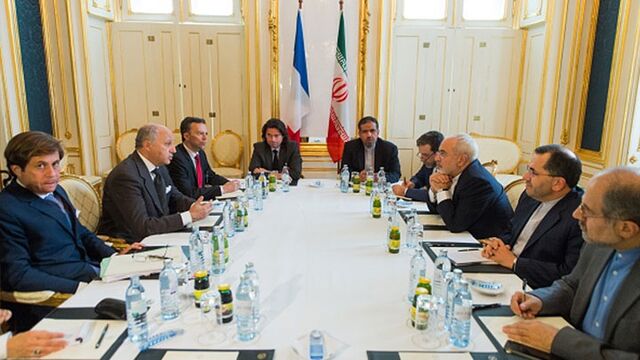 The U.S. and its European allies have secured a way to snap back United Nations sanctions on Iran if it violates an accord curbing its nuclear program, according to diplomats from three countries negotiating with the Islamic Republic.
The UN Security Council will need to periodically approve a resolution maintaining sanctions relief, they said. The resolution would allow a member state that has reason to believe Iran is violating the deal to block automatic rollover of the relief. They spoke on condition of anonymity to discuss confidential negotiations.
The Obama administration, which faces an uphill task to persuade a Congress skeptical of any Iran nuclear deal, has insisted it has the ability to immediately reimpose UN sanctions. World powers and Iran in Vienna have said they are nearing an agreement after extending a self-imposed deadline by a week to July 7.
The U.S. ambassador to the UN, Samantha Power, told the House Foreign Affairs Committee on June 16 that her country didn't trust either Russia or China to back reimposing the sanctions. "We will retain the ability to snap that multilateral sanctions architecture back in place without Russian or Chinese support," she said.
Russia's envoy to the UN, Vitaly Churkin, in May rejected an automatic return of sanctions if Iran cheats on the nuclear accord. "There can be no automaticity, none whatsoever," Churkin told Bloomberg News.
Sanctions Review
The sanctions review would take place every six months or year, one of the diplomats said. A dispute-resolution panel including Iran and the six world powers negotiating a pact would examine any reported Iranian violations and issue a non-binding decision, the diplomat said.
A series of Security Council resolutions adopted from 2006 to 2010 ban all Iranian uranium enrichment and reprocessing activities and financial dealings with the Iranian government and institutions that may contribute to the Islamic Republic's suspected nuclear weapons program. Iran says its efforts are solely for civilian purposes.
The U.S. considers that any agreement would be "predicated on a lack of trust" and could reimpose its own sanctions "at the stroke of a pen," Power said.