State Department Releases 3,000 Pages of Hillary Clinton's E-Mails
The previously private messages highlight Team Clinton's focus on her image and press coverage.
By and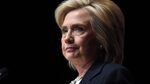 When she was secretary of state, Hillary Clinton and her staff fretted over her press coverage, celebrating favorable stories and trying to tone down others, some 3,000 e-mails released late Tuesday by the State Department showed.
Now the Democratic presidential front-runner, Clinton kept a close eye on her public image from her earliest days as a member of the Obama administration. "How's it playing?" she wrote to her longtime communications aide, Philippe Reines, after one press conference.
On May 1, 2009, Reines and chief of staff Cheryl Mills exchanged e-mails over concerns about how a New York Times takeout on Clinton's early months at State depicted her views of then-national security adviser General James Jones. Reines said Clinton was "understandably upset" with a section of the story that cited people "in her circle" saying "less-than-generous things" about Jones.  He told Mills he was able to persuade the reporter to change the story.
Other e-mails featured aides passing on press releases and news stories that cited the then-secretary of state favorably, and show journalists bargaining for interviews. Clinton's aides also monitored the State Department's social media, even if they did not have the lingo exactly correct. After a Newsweek article that called Clinton tweets "dry," Mills wrote to a Clinton tech adviser, Alec Ross: "We should not be twittering in the Secretary's name since she is not the person actually twittering."
The e-mails, which the department posted to its website Tuesday just before 9 p.m. Washington time, were the first to be released under the terms of a U.S. District Court ruling, made in response to a Freedom of Information Act suit, that requires the State Department to publish portions of Clinton's approximately 55,000 pages of e-mails monthly. 

Clinton used private e-mail addresses and a private e-mail server to conduct government business while serving as secretary of state from early 2009 to early 2013. She only submitted her correspondence to the department to comply with open-records laws last December. Up until now, the only e-mails that had been released were some 300 concerning Libya, which were handed over to a congressional committee investigating the 2012 terror attacks in Benghazi.
The latest release provides insights into how Clinton and her staff operated during her tenure as America's top diplomat, and how Clinton's determination to maintain a private e-mail address left some top Obama aides applying to her gatekeepers for a means to reach her. Then-White House chief of staff Rahm Emanuel had to ask for Clinton's e-mail address, as did longtime Obama political adviser David Axelrod. And there were indications that Clinton got just as frustrated with her overflowing in-box as most Americans.
Fax Frustrations
"Does he know I can't look at it all day," she wrote Mills of Axelrod's request for her address, "so he needs to contact me thru you or Huma or Lauren during work hours," references to two of her top aides. Huma Abedin is now vice chair of the Clinton campaign. In one string of e-mails from December 2009, Clinton and Abedin struggled to deal with fax machine issues in a thread with the subject line "can you hang up the fax line, they will call again and try fax." 
As a candidate, Clinton as been inveighing against Wall Street, but she was more solicitous as secretary of state. In a September 2009 note titled "NYSE followup," Clinton says that Blackstone CEO Stephen Schwarzman "wanted help on a visa" and asked for a status report. The name of the potential recipient was redacted by the State Department. She then says that Honeywell CEO David Cote "complained about export control regs that interfere w sales."
And when Terrence Duffy, executive chairman of derivatives trader CME Group, asked her to stop by a Washington dinner he was hosting for "150 or so folks from the exchange," Clinton asked an aide to try to find time for the group to visit the State Department. Duffy is a major political donor who generally backs Republicans (in one e-mail he conveyed greetings from Senator Lindsey Graham, one of this year's Republican presidential candidates) but he did give the maximum contribution of $4,600 to Clinton's 2008 presidential campaign. In another e-mail, Duffy asked Clinton to deliver a keynote address in 2010 when he was to be honored by the American Friends of Hebrew University. Evidently, Clinton had to regret: Conservative columnist George Will did the honors instead.
Clinton exchanged e-mails with Stanley Roach of Morgan Stanley, a donor to her Senate and presidential campaigns, about China economic policy. "Delighted to hear from you," Clinton wrote after Roach apologized for a "rambling" e-mail. In a later message she asked an aide to make time for her to see Roach when he was in Washington.
The secretary of state also wrote an encouraging note to Bill Owens, chairman of AEA Holdings Asia, about an effort he was pushing to open a dialogue with retired Chinese military officials.
Clinton also kept an eye on her younger supporters. On June 10, 2009, the secretary of state wrote to two aides asking to make sure she sent a letter to 2008 campaign staffer Adam Parkhomenko, then 23, who had lost a primary bid for a seat in the Virginia House of Delegates the previous day. Parkhomenko went on to found Ready for Hillary and is now director of grassroots engagement for the Clinton campaign.
And the secretary of state maintained the loyalty of longtime employees. From his office in the executive suite of Sony, her former press secretary, James Kennedy, helped out with speechwriting. "I'll try to give it a polish (as they say out here in Hollywood)," wrote Kennedy, now a top executive for Rupert Murdoch's News Corp.
Press relations is one of the most consuming themes of the messages. When Clinton and Henry Kissinger, the secretary of state to the late President Richard Nixon, were scheduled to sit for a joint interview in December 2009 moderated by Jon Meacham, then of Newsweek, Clinton wrote Reines that one possible line of questioning might be about how much less frequently she met with President Barack Obama than Kissinger met with Nixon. "In thinking about the Kissinger interview, the only issue I think that might be raised is that I see POTUS at least once a week while K saw Nixon everyday." Then, she added a bit of a jab at Nixon, whom she helped investigate as a young staffer for the Watergate Committee: "Of course, if I were dealing w that POTUS I'd probably camp in his office to prevent him from doing something problematic."
The e-mails also provided less-than flattering insights into the working methods of some of the reporters who were vying for access to Clinton.
Friends in the Media
In one e-mail, Lynn Forester de Rothschild, a Clinton fundraiser, interceded on behalf of Leslie Gelb, a former New York Times correspondent and president emeritus of the Council of Foreign Relations who wanted to write an article on Clinton for Parade magazine.
"He wants to show the impact you are having domestically and internationally. He said he would give you a veto over content and looked me in the eye and said, 'she will like it,'" de Rothschild wrote. Gelb got the story. "What did you think of the photo and article?" Clinton wrote to her staffers after it appeared.
(As of Wednesday, an editor's note appeared at the top of the Parade story. It said, "The following story was originally published in 2009. Parade was acquired by Athlon Media Group (AMG/Parade) in September 2014. While we cannot speak to the policies of prior owners, AMG/Parade does not promise favorable coverage or allow any story subject control of the editorial process.")
Paul Begala, a longtime aide to former President Bill Clinton who now serves as a consultant to CNN, is "Paulie" in a series of playful e-mail exchanges with the secretary of state's staff. In one, Begala informs Mills, "I gave Sec. Clinton an A+ in our CNN report card last night." In another, longtime Clinton aide Capricia Marshall appears to be thanking Begala for a fundraising idea to help pay her boss's 2008 presidential campaign bills. 
"We raised 500K from the e=mail contest!! You all are amazing - the world adores you! You put a serious hole in hrc debt!" Marshall wrote Begala in April 2009.
In another e-mail exchange, Clinton celebrated the granting of a security clearance for Declan Kelly, her appointee an economic envoy to Northern Ireland. Kelly's relationship with both Clintons appears to have flourished now that he heads a company that provides intelligence to corporate clients.  
Clinton strove to look like an integrated part of the Obama team from the first days of the new administration.

But her stable of loyalists never lost sight of the possibility of another campaign. In one e-mail, from late April 2009, Mills suggested bringing over Obama staffer Jim Messina to give Clinton polling "on what connects bho to people and his success and why they care about certain things." It's not clear if the meeting ever took place. Three months later, Sidney Blumenthal sent polling to Clinton showing that Obama's approval rating had already dropped in key swing state of Ohio.
In another message, Mills flagged Clinton and her second 2008 campaign manager, Maggie Williams, about a forthcoming book by Patti Solis Doyle, her first 2008 Clinton campaign manager, who defected to Obama's campaign after being fired.
Like any good politician, Clinton was scrupulous about acknowledging birthdays: Her e-mails are filled with reminders to call friends and supporters—including her eventual successor, John Kerry—with birthday wishes.
Loyalty to Blumenthal
The e-mails underscored Clinton's loyalty to Blumenthal, a former staffer whose notes to her about Libya—where he had business clients—have provided fodder for the congressional investigation on Benghazi. Blumenthal was one of Clinton's most frequent correspondents from outside the State Department in the cache of messages released Tuesday, maintaining ties with her as rumors circulated that he was still trying for a job in the agency.
A blast e-mail from a redacted source that seems likely to have come from Blumenthal or his wife Jacqueline touted the success of their son Max Blumenthal's book, Republican Gomorrah: Inside the Movement that Shattered the Party, which was published on September 1, 2009. The subject line of the note, sent just after midnight on September 11, was "Phenom: Max is #10, now ahead of Glenn Beck; #1 political and history book," and the body of the message includes Amazon links. Clinton responded at 5:33 a.m. with praise for the younger and often controversial Blumenthal, writing: "He should be--I just finished the book and it's great. Congrats to all!"
Another e-mail suggests that Clinton was consulting her pollster, Mark Penn, on policy questions. In October 2009, as Obama was trying to decide whether to send more troops to Afghanistan, Penn wrote Clinton: "Politically, this is also quite dangerous. Obama maintained througout the campaign and the start of his presidency that this is the one to fight and backing down here makes him and the administration vulnerable to losing moderate support and seeming weak and indecisive. A single terrorist incident would be blamed on the admin. failing to do the job right." The president ended up signing off on a so-called troop surge.
Under the subject line "Don't laugh!!" Clinton asks Capricia Marshall: "Can you contact your protocol friend in China and ask him if I could get photos of the carpets of the rooms I met in w POTUS during the recent trip? ... loved their designs and the way they appeared carved. Any chance we can get this?"
The latest release represents a portion of the approximately 30,000 e-mails Clinton said she sent to the department—representing the 55,000 or so pages—while deleting another 30,000 she deemed personal. However, the New York Times reported that a Clinton confidant has turned over at least 15 e-mails that the State Department either did not possess or did not disclose to a congressional committee investigating the 2012 attacks in Benghazi, Libya. 
The department had previously released less than 300 e-mails related to the attacks, which killed four Americans, including the U.S. ambassador to Libya, J. Christopher Stevens.