Merkel-Tsipras Sparring Leaves Greece in Limbo Until Sunday Vote
Theophilos Argitis and Nikos Chrysoloras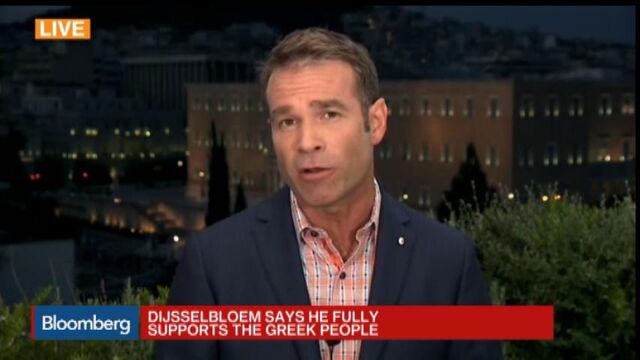 Greek Prime Minister Alexis Tsipras and his creditors sparred heading into Sunday's referendum on austerity, deepening Greece's financial misery.
As rationing of pensions began on the third day of capital controls, Tsipras said he was willing to accept the latest offer from his antagonists as the basis for talks on a new deal. German Chancellor Angela Merkel ruled out such discussions until after the July 5 plebiscite.
The battle lines ahead of the vote now appear immovable as Greeks adjust to their new reality with no prospect of their economic woes ending any time soon. The political posturing, along with the expiry of its bailout deal and a missed payment to the International Monetary Fund, masked the desperation as the economy sputtered and cash ran low.
"The clock cannot be simply set back to where it was Friday night before Tsipras broke off the talks," Holger Schmieding, an analyst at Berenberg Bank, wrote to clients. "A deal is still possible, but it would require more than just this letter."
European stocks and bonds rose on the thaw in Athens. The Stoxx Europe 600 index rallied 2.2 percent. Yields on debt from Italy, Spain and Portugal all fell and the euro weakened 0.8 percent to below $1.106.
Tsipras Letter
In the letter to European Commission President Jean Claude Juncker, European Central Bank President Mario Draghi and International Monetary Fund Managing Director Christine Lagarde, Tsipras resisted their demands on pensions and tax discounts to Greek islands.
He proposed delaying implementation of the zero-deficit clause for the country's retirement funds and other pension reforms until October instead of July and maintaining a 30 percent discount on sales tax for islands. He also wants to proceed with planned changes to collective-bargaining rules that the creditors oppose.
They have insisted on pension reforms that would bring savings of as much as 1 percent of gross domestic product by 2016 and immediate steps to eliminate early retirement benefits and allowances for lower pensions.
In Athens, the queue of retirees at the few banks that opened this morning underscored the country's plight. At 7 a.m., a few dozen pensioners were outside a central branch of the National Bank of Greece. They were to receive a maximum of 120 euros ($133), compared with the average monthly payment of about 600 euros. Many left with nothing after being told only those with last names from letters A to K would get paid.
No Grounds
A call among euro-area finance ministers failed to budge the situation.
"We see no grounds for further talks at this point," Dutch Finance Minister and Eurogroup chief Jeroen Dijsselbloem said in a video message. "We will simply wait now the outcome of the referendum on Sunday and take into account the outcome of that referendum."
In Frankfurt, the European Central Bank froze its emergency credit line to Greek lenders following Greece's failure to repay $1.7 billion to the IMF. After the referendum was called, the ECB froze the cap on Emergency Liquidity Assistance keeping Greek banks afloat.
Rejecting Austerity
Following reports of his letter to his creditors, Tsipras addressed the nation to quash speculation swirling on social media that he might cancel the referendum.
Instead, he doubled down, reiterating his call to reject austerity. He said it would strengthen his bargaining position.
"Come Monday, the Greek government will be at the negotiating table after the referendum, with better terms for the Greek people," Tsipras said in a Twitter message posted as he spoke on national television. "A popular verdict is much stronger than the will of a government."
And in Berlin, Merkel, Europe's dominant political figure, took it in her stride.
Asked whether she and Tsipras are still on speaking terms, the German chancellor said the two had talked several times in the last few days.
"Our personal relationship has not been damaged at all," Merkel told reporters. "We can talk to each other anytime and have done so recently."