Is It Time to Start Shutting Down Law Schools?
No one wants to go to law school, yet new ones keep popping up
By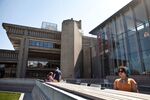 This month, the American Bar Association provisionally accredited a new law school at Concordia University. More than 200 law schools are accredited in the U.S. An analysis of data from the ABA itself raises the question whether that list should be getting any longer.