Honda's New 'Cute' SUV: More Fun, Less Utility
The new HR-V tackles two problems facing full-size SUVs: bad looks and boring driving
By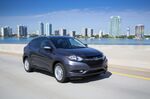 In the white-hot SUV market, Detroit lays claim to the sexy badges with its Escalades and Jeeps—and boring old Honda has the buyers. Honda's CR-V, by all accounts a fairly bland and somewhat dated model, has for some time been far the best-selling utility vehicle in the U.S. Out of all the different cars available across the country last year—from big pickups to sleek supercars—only five models sold in greater numbers than the CR-V.

Now Honda has decided to give its talented child a sibling, and so the all-new HR-V arrived at dealerships in the U.S. last month. The smaller SUV—a category with the cringe-worthy designation of "cute-ute"—is off to a precocious start. In just six weeks, Americans have snapped up 14,141 of the rugged little rigs. "Basically, the car is showing up to the dealer and it's sold," says James Jenkins, manager of light truck product planning at American Honda. "It's literally coming off the truck and going into a consumer's hand."
In a car market bent on producing a dizzying array of shapes and sizes, the tiny SUV may be the closest thing one finds to white space. That's why Honda isn't alone in rolling out a Mini-Me SUV.
In December, Chevrolet started selling its Trax in the U.S., for example. Jeep released its new Renegade in March, combining Fiat bones and Americana flair. Just a few weeks ago, BMW's Mini brand promised to send another option with a five-door dubbed the Clubman. These are strange, buggish machines designed for people who want a utility vehicle without that much utility.
So is Honda's cute-ute any good? It's perfectly solid, just like its bigger sibling, although not superlative in any regard. The HR-V gets good mileage , just not as good as a hybrid. It has some nice features, though nothing overly opulent. It is simply a fairly nice, presumably reliable car for the money —and that's probably more than enough for another string of boffo numbers.
Honda's Jenkins expects the HR-V to dominate the cute-ute segment in the same way the CR-V rules among larger SUVs. "I see no way we're not benchmark-leading," he says.
SUVs have two major knocks against them: mediocre looks and a less-than-joyful driving experience. The CR-V certainly suffers on both fronts. It's tall and prone to tilt, and its engine would be sporty only if it were in a vehicle that weighed half as much. The apex of the CR-V roof and tailgate stretch in a way that looks out of sync with the rest of the car's proportions. Picture a team mascot with an over-sized head, or one of those banana-shaped helmets that cyclists ride in time trials.
With the HR-V, Honda engineers have addressed both the weird proportions and staid driving. First, the vehicle has magical seats in the rear—they are actually called "Magic" seats—that can swiftly fold flat and be folded up against the back to accommodate tall things such as a giant picture frame or a miniature horse.

Correspondingly, Honda designers didn't have to leave as much vertical space in the way-back so they could swoop the end of the roofline down in a sporty dip. Granted, the CR-V offers a lot more space overall . But the smaller vehicle also has a passenger seat that lays flat, offering an eight-foot stretch from glove-box to fender. No one will borrow the HR-V for moving, although it can still swallow a big piece of furniture or a surf board.

While the HR-V isn't a thrilling drive, it at least comes in manual transmission. A new car with a stick shift is a delightful anachronism, like ordering up an old Seinfeld episode via Hulu. The engine's four, little cylinders are weak and whir like furious toddlers, but every stop light and on-ramp presents an opportunity for a Fast and Furious feeling, thanks to Honda's clutch pedal and that little wand throwing in gears with a satisfying "tunk."

One other place where the HR-V delivers: paint. Its "Misty Green Peal" and "Mulberry Metallic" are interesting and unusual without being gaudy or contrived.
The downsides to the HR-V are what one might expect. The cabin is relatively noisy, it lacks some of the engineering marvels of more expensive SUVs, and it can be downright pokey, particularly with the automatic transmission. Those who are really into driving probably won't buy this car. Nor will those who need to tow boats or shuttle around a pack of kids and dogs. That still leaves a huge swath of car buyers. Honda initially expected to sell 70,000 HR-Vs in its first 12 months. Jenkins says that figure now seems drastically low.
Honda's biggest challenge with the HR-V may be that it pulls buyers from the bigger CR-V, a crossover cannibalization that will cost the company some profit. But if buyers are demanding baby SUVs, it may as well keep them in the family.