How Paint Nite Is Saving the American Bar
The paint-and-sip company fills bars with brush-wielding urban professionals
By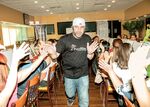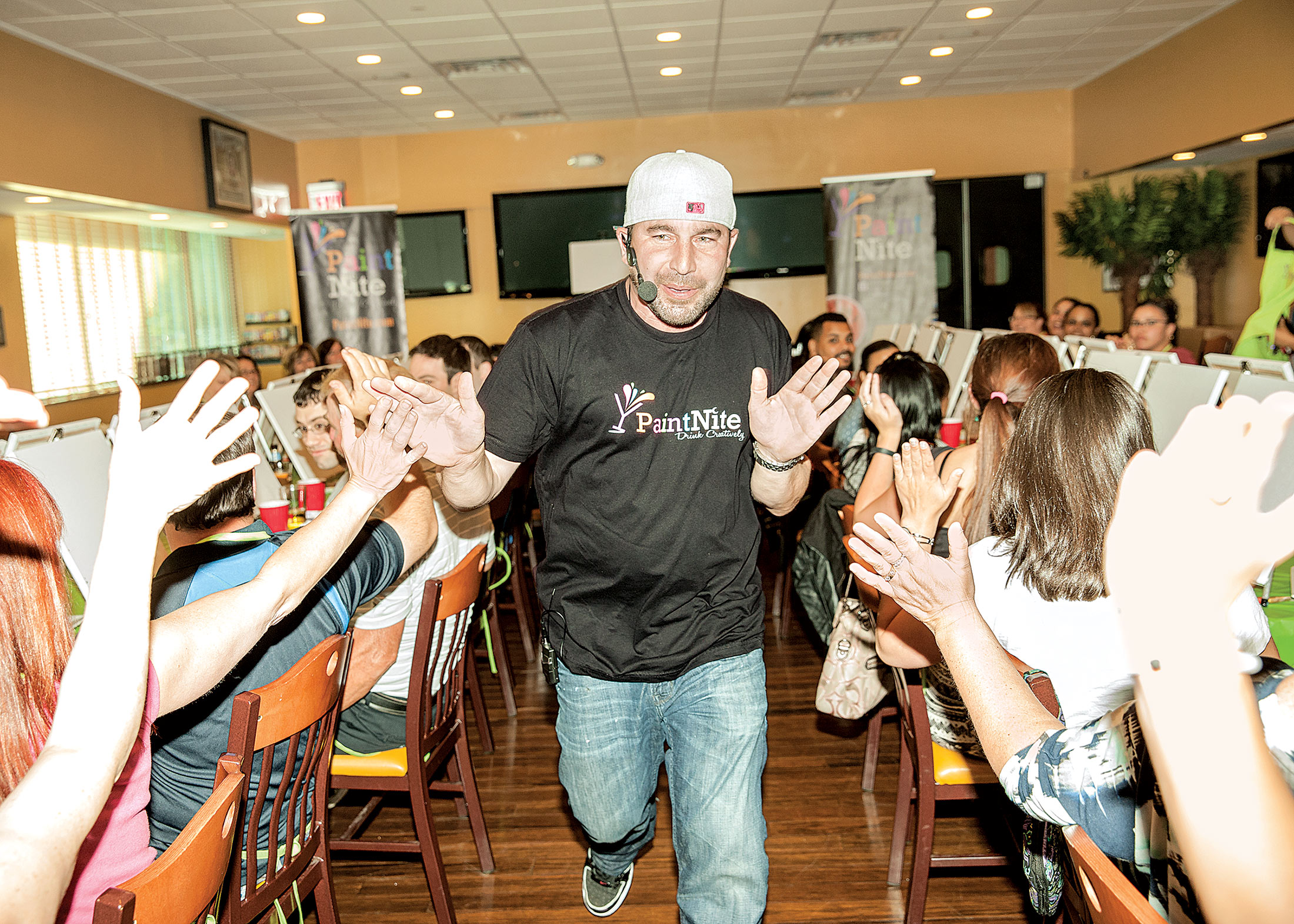 Most startup creation myths involve seeing a solution to some horrifying problem no one else noticed. Not so for Dan Hermann and Sean McGrail, who were at a female friend's birthday party four years ago, drinking wine and painting landscapes, and said, "More of this."
"We thought, This is catering to all women. How bad can it be?" Hermann says. He's drinking a Harpoon IPA out of a Mason jar at 5 p.m. at his office in Somerville, Mass., along with the rest of the 80, mostly female, Paint Nite employees. Most of the company's employment ads read: "It's one of few jobs where you can drink on the job." McGrail downs his pint, and the two founders head out—they're off to drink at dinner before drinking again at a Paint Nite class—walking by conference rooms named things like Gin Fizz and Midori Sour.
The paint-and-sip industry is a little more than a decade old. People show up to drink while an instructor slowly guides them, step-by-step, through the creation of a prechosen design. The idea was pioneered by Painting With a Twist, which two women in New Orleans started while looking for a reason to gather after Hurricane Katrina; it now has 200-plus locations, more than a third of which opened last year. Based on growth, it was rated the No. 1 franchise in Entrepreneur magazine's Franchise 500 list.
McGrail and Hermann thought they could build a system that would grow even more quickly. Rather than rent a storefront and hire full-time instructors, they built a network of freelancers who host classes in uncrowded bars. Unlike karaoke, a DJ, or trivia night, Paint Nite costs the bar nothing. "There's a new terminology out there called 'eatertainment,' " says Bonnie Riggs, restaurant analyst at NPD Group. "This type of thing appeals to millennials—they used to be the heaviest users of restaurants, but they no longer are." On average, they've cut back annually by 50 visits per person in six years. Paint Nite gets them back in the door, and the establishments profit from customers who often spend heavily on cocktails. "Not every bar wants a bunch of women on a Sunday night. But most do," says McGrail, who encourages artists to pitch events on off-nights.


The other paint-and-sip companies—Pinot's Palette has more than 100 locations; Wine and Design has more than 50—require franchisees to spend about $100,000 to rent a permanent spot and get a liquor license, if they can. This forces most to the suburbs, making their events, McGrail argues, a little closer to a continuing education class than a bachelorette party, much in the way that sip-and-spin pottery classes were popular in previous decades. Paint Nite, by contrast, throws after-work parties for patrons who are largely lawyers, teachers, and tech workers eager for a creative hobby in cities such as Boston, Chicago, and Washington.
Hermann and McGrail admit that giving art lessons in bars was never a passion of theirs. They were teammates at a weekly bar trivia night in Boston, where McGrail, 42, sold pelvic surgery devices, and Hermann, 44, toiled on a laundry service/summer storage startup he'd opened after graduating from college. But they both liked art. And they saw an opportunity that lots of entrepreneurs see right now—outsourcing to the crowd. Their company basically works on the same principle as Uber or Airbnb. Each customer pays $45, and Paint Nite gives 70 percent of that to the artist, who books the location, picks the painting from the site's suggestions, creates a music playlist, teaches the class, and cleans up—essentially does all the work. For its 30 percent, Paint Nite provides the tech infrastructure and marketing. It also lends each teacher $3,000 for students' art supplies, which the teachers eventually pay back from their $200 or so in nightly profits.
The company also gives instructors sales techniques so they can approach bars to let them set up easels in a corner on a slow night. It suggests hiring photographers to shoot events so patrons can post shots on social media. Twice a year there's Paint Nite Palooza—the next will be in Las Vegas in September—where about 75 Paint Nite licensees go to panels on topics such as Microsoft Excel.
After starting Paint Nite in March 2012 for $7,000—paint brushes aren't that expensive—and figuring it would be a side gig, Hermann and McGrail discovered they were in a massive-cash-flow business: This January, they posted revenue of more than $4 million on sales per month of 155,000 tickets in more than 2,600 bars in 1,200 cities and towns. They just took their first round of funding from Boston's Highland Capital Partners; they don't need the cash but wanted local experts on board to advise. The company's valuation is $39 million.
A typical Paint Nite teacher is a young, full-time artist or an older art teacher. Many, like Boston's Callie Hastings, who is now on staff at the company, once taught preschool. She says teaching 4-year-olds how to paint isn't all that different from teaching drunk people: "They have short attention spans. So you have to talk in short sentences." She was surprised to find that people didn't choose classes based on date or location, but on the painting itself. They will drive an extra 45 minutes, past two other Paint Nite locations, to execute the pastoral landscape that will go perfectly in their dining room. To avoid copyright issues, all the paintings have been created by Paint Nite artists, and there's a huge selection. One of Paint Nite's first crises came when artists got mad that other people were using their works in classes. Now instructors give $10 per session to the creator of the work.
Choosing the painting that brings in a crowd is an art in itself: The work can't look so challenging that you'd have trouble reproducing it drunk; it should involve nature and have enough contrast to look good on social media; and, if possible, it should knock off a famous impressionist. Most artists learn this the hard way, despite the advice in Paint Nite's starter kit. "A lot of them pick paintings based on what they like," McGrail says. "One artist, Raisin—that was his first and last name—had a giraffe coming out of an elephant penis. Not surprisingly, it didn't sell that well." After years of pushing artists to hire a nude male model—Hermann and McGrail wanted to call it Asstastic night—without anyone taking them up on it, they recently got an instructor to do it in Boston in June. Demand was so high they had to rent out a theater.

The painting I'm attempting tonight, Japanese Cherry Blossoms by Brian Wintersteen, a middle-school art teacher, is the most popular work in Paint Nite's history. It's netted more than $150,000 for the company. At 7 p.m., at Boston's Hit Wicket Bar, 36 people are stationed in front of short metal easels on a plastic green tablecloth. Our teacher, Peter Raymond, has given us each a paper plate holding dabs of the five paints we'll need, a red Solo cup with water, and brushes. "There's no negativity allowed at Paint Nite," Raymond yells into his headset. He's a full-time artist and adjunct professor at Lesley University who says Paint Nite is providing his baby's college fund. Artists who work five nights a week make about $50,000 a year.
Before we pick up a brush, he asks everyone to place one hand on their canvas and the other on their drink and recite the Paint Nite oath: I promise: To relax and have fun. Not to throw my canvas across the room. Not to use the words "Mine sucks!" "I screwed it up!" "Can you fix this?" "Can't you just do it for me?" "I thought this was paint by numbers!" Now you're ready to drink creatively. Cheers!
Although they have breaks to buy more drinks, people don't get too loud or rowdy, taking their art very seriously. During the "drink and dry" time between layers, the on-site photographer offers people the opportunity to take shots with a huge sign that says, "Bob Ross is my homeboy," an homage to the Jew-fro'd PBS host who used to teach people to paint. "We couldn't have done this 10 years ago," says McGrail as he freestyles an impressive mountain landscape and sips a gin and tonic. "Our customers are doing the heavy lifting on the marketing side by taking a cell phone picture and posting it to 200 of their friends."
As we leave, he admires one guy's painting. McGrail gives him his card and asks him to teach a class. They both seem equally excited about the idea, though who knows what will happen in the morning. After all, they've both been drinking all night.
Before it's here, it's on the Bloomberg Terminal.
LEARN MORE