Envoys Overcome Iran Sanctions Hurdle as Monitors Head to Tehran
Jonathan Tirone, Indira A.R. Lakshmanan and Henry Meyer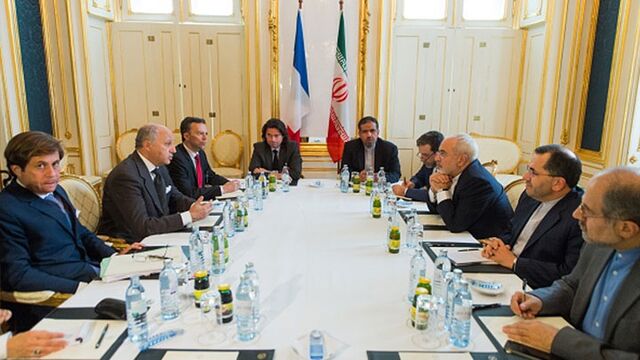 Envoys negotiating a nuclear deal with Iran have resolved differences over reimposing United Nations sanctions in the event of cheating, as work on drafting a potentially historic agreement continued in Vienna.
Diplomats from three of the six powers negotiating with Iran said they've agreed among themselves on a so-called "snap-back mechanism" to restore UN sanctions should an accord be violated. Other sanctions have been imposed on Iran by the U.S. and European Union.
U.S. Secretary of State John Kerry said officials were working "very, very hard" to overcome other hurdles to a pact at talks in the Austrian capital. "We have some very difficult issues -- we believe we are making progress," he told reporters outside the Palais Coburg.
Five days into their final round of talks to clinch a deal, momentum is building around an agreement that would eventually lift Iranian sanctions in return for nuclear curbs. Foreign ministers from France and Germany will rejoin negotiations on Thursday. Meanwhile, the head of the United Nations' atomic energy agency will be in Tehran to meet President Hassan Rouhani in an effort to work out access for inspectors to verify Iran's compliance.
There are still disagreements and no draft of the main text for a deal yet exists, said a Western official in response to comments by an Iranian envoy that technical experts had finished their work. Drafting continues at all levels, the official said. As with the other diplomats who spoke, the person asked not to be named in line with rules.
Deep Distrust
Under the snap-back mechanism, the UN Security Council will need to periodically approve a resolution maintaining sanctions relief, the diplomats said. The resolution would allow a permanent member of the Security Council that has reason to believe Iran is violating the deal to block automatic rollover of the relief.
Distrust runs deep between Iran and its interlocutors -- the U.S., China, France, Germany, Russia and the U.K. -- even with their negotiations well into a second year. While Iran is poised to win relief from curbs on its economy once a deal is verifiably implemented, the U.S and European nations have been adamant about maintaining a sanctions threat.
For Iran, holder of the world's fourth-biggest oil and second-biggest natural-gas reserves, an agreement would mean the lifting of trade and financial sanctions that have hobbled its economy. For the U.S. and Persian Gulf nations wary of Iran's influence, it would restrict the Islamic Republic's ability to make nuclear weapons and give monitors early warning if it ever tried to do so. Iran says its program is entirely peaceful.
IAEA Visit
The International Atomic Energy Agency on Wednesday reported in a restricted document obtained by Bloomberg that Iran has continued complying with a November 2013 interim accord that froze its most sensitive nuclear activities.
As well as his meeting with Rouhani, Yukiya Amano, director general of the International Atomic Energy Agency, is expected to meet the secretary of Iran's Supreme National Security Council, Ali Shamkhani, who helps oversee the military.
"Discussions are expected to address ongoing cooperation between the IAEA and the Islamic Republic of Iran," the agency said in an e-mail. They'll seek "to accelerate the resolution of all outstanding issues related to Iran's nuclear program, including clarification of possible military dimensions."
Amano's meeting with Shamkhani is significant because the IAEA has sought information about links between Iran's military and its civilian nuclear program. The agency has also long sought to re-visit Iran's Parchin military complex, where investigators claim to have credible evidence that nuclear-related experiments took place.
"We invited Mr. Amano to go to Iran to work with our officials on how to proceed," Iranian Foreign Minister Mohammad Javad Zarif told reporters before a meeting with Kerry.