Can Gender Quotas Get More Women Into Boardrooms?
While most agree there's a problem, they don't see eye-to-eye on the solution
By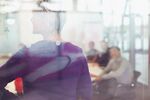 Most people agree that there aren't enough women in corporate boardrooms, but there's little consensus on the best way to increase numbers and improve director diversity. Some countries use voluntary targets, while others employ tougher (often controversial) legislative measures such as binding quotas to tackle the problem.