business
California's New Vaccine Law Actually Affects a Minority of Its Schools
Less than a quarter of kindergartens account for 80 percent of personal exemptions
By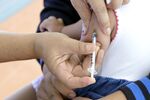 Under a new law Governor Jerry Brown signed June 30, California parents will no longer be able to skip vaccines based on personal or religious exemptions when they enroll their kids in school. The backlash was swift and predictable, including a string of tweets from Jim Carrey:
What's easy to miss is that the exemptions being eliminated are concentrated in a relatively small portion of California schools. Just a quarter of the state's schools made up more than 80 percent of its "personal belief" vaccine exemptions, according to an analysis of kindergarten data from the California Department of Public Health. In 3,357 schools—nearly half of the kindergartens for which data were available—there wasn't a single personal belief exemption in the 2014-15 school year. 
If you compare the quarter of California's schools that have the most vaccine exemptions with the rest of the state, here's what you get:

In the least-vaccinated quartile of California schools, about one in 12 kids claim personal exemptions. The median vaccination rate for those schools is less than 88 percent, low enough to threaten the herd immunity that comes with widespread coverage. In the rest of the state, exemptions are exceptionally rare, and the median vaccination rate is 96 percent. 
The law Brown signed is intended to make the least-vaccinated pockets of the state look more like the rest of it. Jim Carrey may call that fascism. For most of California, it's just kindergarten.
Before it's here, it's on the Bloomberg Terminal.
LEARN MORE