Photographer: John Carey/Cafe Murano Covent Garden
Restaurant Reviews
Cafe Murano Brings Quality Italian to Covent Garden Wasteland—Just Skip the Mains
Angela Hartnett's second outpost could use more consistency
By
Angela Hartnett  is a low-key chef who is high profile because people like her and they like her style of cooking, rather than because she wants to be liked.
During the first two days of her new restaurant Café Murano Covent Garden, which opened on Monday, she spent more time in the basement kitchen than schmoozing guests in the dining room. 

This is the second outpost of what may become a larger group. The first Café Murano, which opened on Saint James's Street late in 2013, quickly became a magnet for diners, drawn by unfussy, well-cooked food at prices that won't upset the expense police.
The new version is likely to match that success for three reasons. First, the dishes of head chef Richard Lloyd are at least equal to the original and the prices (for now, at least) are slightly lower. The set lunch is particularly good value at 16.50 pounds ($26) for two courses, 21 pounds for three. 

Second, Covent Garden is still a horrible place to eat out for the most part (although here are 12 to try). While there are strong newcomers such as Balthazar and Barrafina Adelaide Street—just named the U.K. Restaurant of the Year—many places are chains aimed at tourists who are unlikely to return.
Third, it looks great. Russell Sage, the designer behind many of London's most striking restaurants (Savoy Grill, Grain Store, Social Eating House, Quaglino's) is on form.

The ground floor of the 140-guest trattoria features terracotta leather banquette seating, a Carrera marble dining counter, and an antipasti station. It's spacious and comfortable and comforting. All right, it is a bit generic, but upstairs, Sage lets it rip. The room is flooded with natural light and feels like a private club.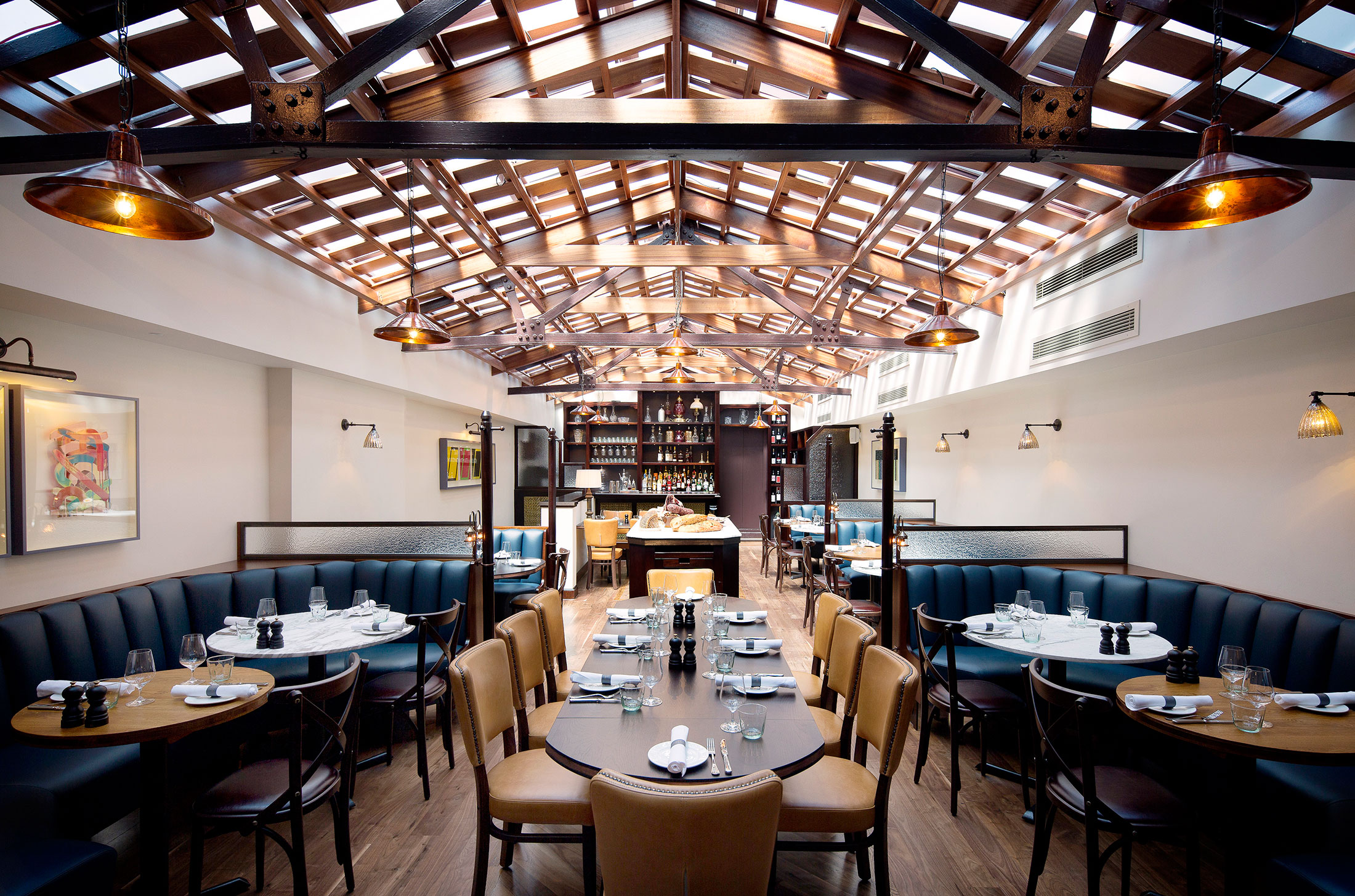 Hartnett is among the most successful of the former protégés of Gordon Ramsay. After working with Ramsay at Aubergine, she was head chef at Petrus. She opened Amaryllis in Scotland, Verre in Dubai, and Menu and the Grill Room at the Connaught, for him.
The menu at Café Murano Covent Garden features a range of accessible snacks, pasta dishes, and mains. On a summer's day, something as simple as a plate of green beans with fresh almonds and peach (8 pounds) can give more pleasure than fancier concoctions, especially when the fruit is so sweet and juicy. Vitello tonnato (8 pounds) is lifted by the crunch of roasted capers—little flavor bombs.


On the lunch menu, sea-bream ceviche with orange and fennel is finely balanced between sweet and sour. The gnocchi are helped along with a fresh sauce made with great tomatoes. Risotto is prepared simply, with peas and Berkswell cheese, and is served with just the right nutty texture. A dessert of strawberries with balsamic is perfect for one.

These are the opening days of a trattoria that is likely to be around for years and, understandably, not everything was great right at the start. Underseasoned meat sank my lunch/pretheater main of chicken cacciatore with lemon and thyme. A couple of other mains could be refined. 
The monkfish that sacrificed its ample tail to be served with rocket and pesto became the Kim Kardashian of the fish world, large and firm but hardly tasteful. The rabbit leg with summer onions and pecorino was Jurassic (read: It needs less cooking time).

And don't get me started on the bowl of cherries priced at 7 pounds. Yes, a bowl of cherries. Seven pounds. That's the most costly fruit since the apple in the Garden of Eden. Hartnett and her colleagues must be having a laugh. 


More forgiving in price is the wine list, appealing in its range. There's a whole page by the glass and carafe, though you can safely skip over the house Sicilian red unless you have a strong stomach and weak spending power. 

There's a Sardinian red (Cannonau "Sartiu," Giuseppe Sedilesu 2012) at 36 pounds if you are on a budget and would like to go for a mix of intensity and subtlety. For whites, you might try the Chora Bianco, L'Acino 2011 (35 pounds), which is fresh and drinkable, lighter than its golden color suggests.
Restaurant prices often increase a couple of months after opening. So now is a good time to visit Café Murano Covent Garden. Service is friendly and informal. It's (relatively) good value if you order right. And you may find Hartnett herself at the stove as you pass the kitchen on your way to the basement washrooms. 
True, it's not ground-breaking food, but I've had much worse at trattorias in Italy. And it's excellent for Covent Garden, where life is rarely just a bowl of cherries. Oops.

Café Murano is at 34-36 Tavistock Street, Covent Garden, WC2E 7PB; +44-20-7240-3654 or cafemurano.co.uk.
Richard Vines is the chief food critic for Bloomberg. Follow him on Twitter @richardvines.
Before it's here, it's on the Bloomberg Terminal.
LEARN MORE