Billionaire's Tragedy to Hit Big Screen as Batista Rights Sold
Juan Pablo Spinetto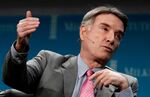 The story of one of history's most dramatic collapses in personal wealth will be told on the big screen.
Morena Filmes Ltda., a Rio de Janeiro-based movie producer, has bought the rights to an unauthorized biography of Eike Batista, the Brazilian entrepreneur who went from being the eighth richest person in the world to ruin in less than 20 months. The book, written by journalist Malu Gaspar and published in 2014, will become a film based on the life of Brazil's most famous businessmen, said Mariza Leao, a partner at Morena.
"Eike's story is a piece of the recent history of the country," she said by telephone Wednesday. "He is a man with an extraordinary trajectory in every sense, from what he undertook, what he conquered and what he lost. It's an unusual life."
The downfall of Batista, an ostentatious tycoon who once said he would be worth $100 billion before the end of the decade, has riveted spectators while angering shareholders and suppliers. After riding a wave of investor lust for commodities over the last decade, Batista tapped the capital markets to develop a string of grandiose projects from offshore oil fields to the biggest port in the Americas.
The moves turned Batista into Brazil's richest person before his ambitious plan failed as costs ballooned and project deadlines were missed. A crisis in confidence ended up wiping out more than $30 billion of his personal wealth. With four of the six listed units he founded forced into bankruptcy protection, the onetime speedboat racer has been selling assets to repay debt since late 2013 as creditors foreclosed on collateral.
Unofficial Version
Leao said while she will eventually talk to Batista about the film, which may take as long as five years to be complete, the project will be independent.
"I don't want to do the official version," she said. "I want to do something that I believe in."
In a recent TV interview, the 58-year-old former billionaire said he was seeking a fresh start after renegotiating 75 billion reais ($24 billion) of debt with creditors.
"I want to rebuild everything again, that's why I am back," he said last month.
Batista declined to comment on plans for the movie.
In his heyday, Batista showed a spirit for films with his companies sponsoring movies from Brazilian directors including "A Suprema Felicidade," a film that reflects the bohemian life in Rio after World War II. He also supported a documentary about the life of his father, Eliezer Batista, a renowned engineer famous for helping Vale SA become the world's largest iron-ore producer.
"Tudo Ou Nada," all or nothing in Portuguese, the biography which the film will be based on, was among Brazil's most-sold books for more than 15 consecutive weeks, according to Carlos Andreazza, an executive editor for non-fiction and Brazilian literature at publisher Grupo Editorial Record.