Autos
Tired of Tesla? Here's a Three-Wheeled Electric Racer
Meet the latest from eclectic British automaker Morgan—but will you miss the roar?
By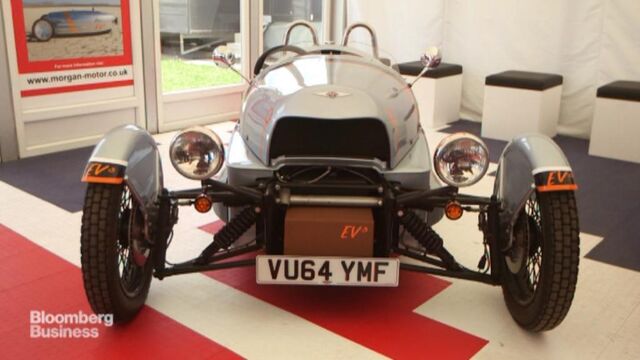 Think "electric car" and what springs to mind? A Tesla Model S? Maybe the BMW i3? What you almost certainly do not think of is the Morgan EV3.
For those in the know, the EV3 looks unmistakably like a Morgan car: It has only three wheels. In fact, it looks almost identical to the original Morgan 3 Wheeler, with just one major part missing: the iconic V-twin engine. The car made its debut last weekend at the Goodwood Festival of Speed in the U.K.
"Many people know the 3 Wheeler as a car of great fun, great to run around the countryside, that's really been the focus for us with this project," says Jon Wells, head of design for Morgan. 
The switch to electric has added a bit of weight—although at 1,200 pounds, the vehicle weighs only 55 pounds more than it's gasoline-fueled relation. It gives you a range of 150 miles from a single charge and hits a top speed of 80 miles per hour.
With the EV3, there's one thing you can't escape: sound. Or the lack of it. For such a retro-styled racer, will you not miss the guttural roar of an internal combustion engines? It's one reason many people love a Morgan.
"Having that constant electric drive, with zero to everything and one pedal stroke and no gear change, is quite exhilarating," says Wells. "And, of course, you still have the wind in your hair and the flies in your teeth."
Read this next:
Before it's here, it's on the Bloomberg Terminal.
LEARN MORE