State Department Will Release More Hillary Clinton E-mails at 9 P.M.
A journalist who sued to get the e-mails says the unusual timing is "outrageous."
By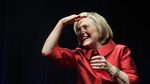 Saying that it is releasing another batch of e-mails from Hillary Clinton's time as secretary of state "in further demonstration of our commitment to transparency," the State Department told journalists Tuesday that it would post some 3,000 pages worth online at 9 p.m. ET.
"This is outrageous," said Jason Leopold of Vice News, the reporter who successfully sued to win release of more than 30,000 e-mails that the Democratic presidential candidate sent on a personal e-mail account using a private server while she was working as the nation's top diplomat. "There's no other reason other than to make sure people are sleeping and it just doesn't get any coverage."
Leopold broke the news of the unusual release time, which had been provided to reporters as background guidance, on his Twitter account. 
He quickly corrected himself on the timing.
Leopold, an investigative reporter, successfully sued the department to release the Clinton e-mails under the Freedom of Information Act. A court ordered that the releases happen on a rolling basis, starting June 30. According to the State Department's timetable, they'll make the deadline with three hours to spare. 
A spokesperson for the U.S. District Court in D.C., where Leopold's lawsuit was filed, did not think there would be any objection to the release occurring outside of business hours, adding, however that it would be up to Judge Rudolph Contreras to decide whether the agreement had been followed. The court spokesperson asked not to be identified by name. 
"It does look like it was chosen to obstruct the public's analysis," said Nate Jones, director of the FOIA Project at the private, nonpartisan National Security Archive in an e-mail. "But I'm sure these documents will be well sifted-through despite this odd release time."
At his daily briefing, State Department spokesman John Kirby told reporters "this is not an attempt or effort to be less than forthcoming" but acknowledged "we all recognize that turning in our homework at 9 o'clock at night is not ideal." He blamed the late hour on the State Department's need to meet the court-imposed deadline while ensuring that sensitive emails have been properly redacted. "It is a lot of stuff to go through," Kirby said.
In its e-mail to reporters about the release time, State said that "the Department acknowledges the significant interest in these documents," adding that the release "meets a goal set by a court ruling." The e-mail is marked "For Planning Purposes Only," meaning journalists are not supposed to report the contents, but Leopold released the e-mail for publication to Bloomberg.
The State Department "certainly can release them now if they wanted to being that this batched is processed and cleared for release," he wrote in a follow-up e-mail. He said he routinely uses FOIA in his work and that such delays were common.
Tom Fitton, president of Judicial Watch, a conservative government transparency organization that has also sued for the e-mails, said the State Department should be releasing all of Clinton's e-mails and not just a portion. "It's woefully insufficient," he said of the upcoming release. 
Clinton's communications as secretary of state have been under scrutiny by a special congressional committee investigating the 2012 terror attacks in Benghazi, Libya, that killed four Americans, including U.S. Ambassador Christopher Stevens. The former secretary of state handed over many of those e-mails to the department in December to comply with open-records laws, but destroyed others she deemed personal. The department has, in turn, given e-mails related to Benghazi to the congressional committee.
But the New York Times has reported that one of Clinton's e-mail correspondents, her friend and onetime aide Sid Blumenthal, turned over to the panel some e-mails he sent to Clinton that the State Department hadn't, raising questions about the completeness of the disclosure, either by Clinton or by the department.
Clinton has repeatedly said she wants the e-mails to come out.
(Contributing: Rachel Adams-Heard)