Oklahoma Must Remove 10 Commandments From Capitol Grounds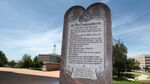 By Laurel Brubaker Calkins
(Bloomberg) –- The Oklahoma Supreme Court ruled that a six-foot-tall granite slab etched with the Bible's Ten Commandments must be removed from the state capitol grounds as it violates the separation of church and state.
The state's high court on Tuesday reversed a September ruling in favor of the Oklahoma Capitol Preservation Commission, which argued the privately funded monument didn't qualify as an unconstitutional religious endorsement under an earlier U.S. Supreme Court decision. The Oklahoma court said the state's constitution bans the use of public funds or property to support or benefit any specific religion.
"Quite simply, the Oklahoma Supreme Court got it wrong," State Attorney General Scott Pruitt said in an e-mailed statement. "The court completely ignored the profound historical impact of the Ten Commandments on the foundation of Western law."
Oklahoma will ask the state's high court to rehear the case "in light of the broader implications of this ruling on other areas of state law," Pruitt said. "In the interim, enforcement of the court's order cannot occur."
Pruitt, a Republican, added that if the court sticks with its interpretation of the state constitution, he will work to repeal that part of the law.
Baptist Minister
A citizens group, led by a Baptist minister and retired school teacher and assisted by the American Civil Liberties Union, sued in 2013 to have the marker removed on claims it co-opted "their religious traditions, resulting in a cheapening and degradation of their shared faith."
The Republican-controlled Oklahoma Legislature authorized the Capitol Preservation Commission in 2009 to arrange installation of "a suitable monument displaying the Ten Commandments" on the statehouse grounds, if private funding could be found.
The granite marker -– inscribed with the scripture passage and several Christian and Jewish symbols –- was installed about 10 feet from one of the capitol's entrances in late 2012, according to court records.
Oklahoma's monument is identical to one that has stood on the grounds of the Texas state capitol since 1961, which the complaining citizens say was inspired by director Cecil B. DeMille as he promoted his 1956 film "The Ten Commandments."
The Oklahoma Supreme Court said that while a 2005 U.S. Supreme Court decision upheld Texas's right to keep its monument, the Oklahoma Constitution forbids the use of any public property to benefit any religious purpose.
"The Ten Commandments are obviously religious in nature and are an integral part of the Jewish and Christian faiths," the justices said in a 7-to-2 decision.
Ryan Kiesel, executive director of the ACLU of Oklahoma, didn't immediately return phone calls seeking comment on the ruling.
The case is Prescott v. Oklahoma Capitol Preservation Commission, SD-113332, Oklahoma Supreme Court (Oklahoma City).