Normal Banks Are Helping Shadow Banks Grow a Lot
A new report shows that U.S. bank loans to nondepository financial companies have jumped more than 230 percent over the past three years
By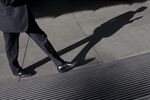 It's no secret that financial companies without government-backed deposits—often dubbed shadow banks—have been growing as a result of post-financial crisis regulations imposed on actual banks.
But what's often overlooked is just how much the "normal" kind of banks are helping to power that growth.
U.S. banks' loans to nondepository financial companies, or shadow banks, have jumped more than  230 percent over the past three years, according to the semiannual risk perspective report released by the Office of the Comptroller of the Currency on Tuesday. They were the fifth-largest category of commercial-loan holdings at banks at the end of last year, up from the 11th spot at the end of 2011.
Here's an OCC chart showing the trend:

And since it's a long list, here's how the OCC described what kind of companies are actually in this category (click to enlarge):
To be sure, banks being involved with shadow banks isn't new. During the crisis, loans to subprime mortgage lenders, managers of collateralized debt obligations, and hedge funds created all sorts of trouble for banks, along with the sort of softer relationships they had with such things as the mortgage-backed securities they issued and SIVs.
Yet banks never really backed away from being a key cog in the shadow-banking system, as Bloomberg News reporter Donal Griffin laid out in an article in 2012 about how Citigroup was involved with collateralized loan obligations, money-market funds, and mortgage real estate investment trusts, even as the bank's then-chief executive officer, Vikram Pandit, was vocally criticizing how regulations were shifting risk toward exactly such things.
It's not just banks that are offering nonbanks a helping hand.
Another report released Tuesday, from the overseer of Fannie Mae and Freddie Mac, shows that those companies may also be playing a role, as they increase the fees they charge lenders to guarantee mortgages.
Over the past two years, the mortgage giants have been charging small lenders less (on a risk-adjusted basis) to guarantee loans than they charge large ones, in a switch from the past, according to the report. And many of those small lenders are nonbanks.
In other words, if you push risk down in one place, it can pop up in another place that may not be so far removed from the first.