business
Default Seen Averted in Swaps by Greek Failure to Pay IMF
Katie Linsell and Alastair Marsh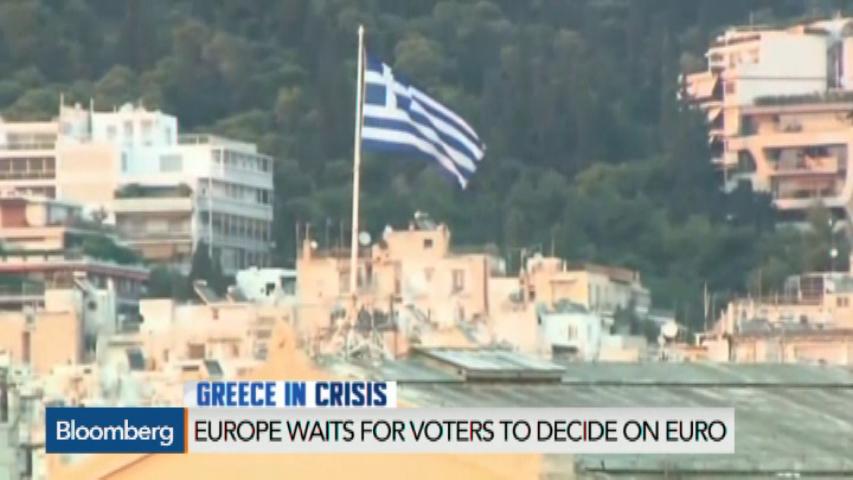 Analysts and traders see little chance that Greece's failure to pay $1.7 billion to the International Monetary Fund will trigger payouts on credit-default swaps.
The IMF loan is excluded from derivatives insuring Greek sovereign debt because it predates a 2012 cutoff, according to JPMorgan Chase & Co. and Barclays Plc. It's also a bilateral agreement that doesn't prompt cross defaults on government bonds, according to Royal Bank of Scotland Group Plc.
Greece became the first advanced economy to fall into arrears with the IMF on Tuesday, joining the ranks of Sudan and Zimbabwe. Investors are concerned that the country may leave the euro after a July 5 vote on whether to accept the demands of its creditors and that it will be unable to make bond payments due later this month.
The IMF payment "is not as urgent as people think as it does not trigger bankruptcy" said Louis Gargour, chief investment officer of London based LNG Capital, an alternative investment management firm. "What's more interesting is that the country does not have sufficient liquidity to make bilateral and external debt payments this month and that constitutes default and will trigger CDS contracts."
ECB Bonds
The IMF loans are associated with a 2010 program and Greek swap contracts only insure debt issued after Feb. 1, 2012, JPMorgan and Barclays said in notes published last month. The three major credit-rating companies have also said they won't consider the missed payment to the IMF a default.
Greece needs to repay about 3.5 billion euros ($3.9 billion) of bonds held by the European Central Bank on July 20. It also owes 11.7 billion yen ($95 million) of notes on July 14 and about 71 million euros of bond interest on July 17. Greeks are scheduled to vote in a July 5 referendum on creditors' proposals for unblocking aid that could decide the country's future in the euro area.
Greece's missed payment is the largest in the history of the IMF, which was conceived during World War II to coordinate monetary policy and promote exchange-rate stability. While the fund's Managing Director Christine Lagarde said on June 18 that she'd consider the missed payment a "default," spokesman Gerry Rice instead referred to Greece as being in "arrears" in a statement on Tuesday.
Cross Defaults
"The non-payment will not be considered a failure-to-pay credit event for the credit swaps because the IMF loan is bilateral and does not trigger cross-default to government bonds," said Alberto Gallo, head of macro credit research at RBS in London.
While it may trigger cross-default clauses in more than 130 billion euros of loans that Greece owes the European Financial Stability Facility, the fund is unlikely to demand immediate repayment, according to Rabobank International and Barclays.
The EFSF will decide Wednesday whether to demand immediate repayment of loans facing an event of default because of the missed IMF payment, waive its right to be repaid or delay the decision until a later date, the Luxembourg-based institution said in a statement. It will coordinate with the Eurogroup Working Group, the European Commission and the IMF, it said.
The European Union is urging the EFSF not to take immediate action, Valdis Dombrovskis, the European Commission vice president for euro policy, said to reporters in Brussels today.
As long as it doesn't accelerate its loans, "the trigger of the related events of default by the EFSF should not lead to a domino effect," said Deborah Zandstra, a partner specialising in sovereign debt advisory at Clifford Chance LLP in London.
Swaps Trading
Nick Sawyer, a spokesman for the International Swaps & Derivatives Association in London, declined to comment on what the skipped payment means for credit-default swaps. Greece triggered payouts on swaps insuring about $3 billion when it restructured its debt in March 2012.
Missing the IMF payment adds "to the growing political instability," said Gildas Surry, a senior analyst at Axiom Alternative Investments in London.
Though trading of Greek credit-default swaps has essentially dried up, sovereign debt risk implied by the contracts has surged. The derivatives now signal an 88 percent probability of default within five years, according to data compiled by CMA.
There were a total of 609 credit-default swap contracts covering a net $584 million of Greek debt outstanding as of June 26, Depository Trust & Clearing Corp. data show. That's a fraction of the $6.2 billion Greece owes the IMF this year and $26 billion through 2030.
"Credit-default swaps won't be triggered," said Gianluca Salford, a rates strategist at JPMorgan in London. " For that, markets are looking to deadlines next month."
Before it's here, it's on the Bloomberg Terminal.
LEARN MORE