In Theory, Greece Is Fine
Greece's debt servicing costs actually look pretty good
By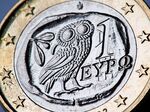 On Tuesday morning, the European Central Bank published a report with the rather dry title; "New and timely statistical indicators on government debt securities" (PDF).
Don't let the name put you off. The paper contains very useful information on the euro area sovereign debt market.
In it, the authors look at debt servicing costs—the money needed to make payments due on a government's upcoming bonds—faced by euro member states.
They produced this chart showing those costs as a percentage of gross domestic product. 

The change in debt service costs for Greece as a result of the private sector involvement (PSI) deal that was finalized in February 2012 is very clear in the top left chart. Perhaps more interesting, the chart shows that those costs for Greece, when calculated as a percentage of GDP, were lower in 2014 than they were for Italy, Belgium, France, Spain, and Portugal.
The story is no different for Greece in 2015, when the servicing costs are projected to be €23.4 billion ($26.2 billion). That's lower than five of Greece's euro area counterparts.

In theory, it would seem that Greek debt is perfectly sustainable—at least, in relation to quite a few other countries.
In practice, things are very different.
(Indeed, the most recent IMF draft debt sustainability analysis document on Greece, seen by Bloomberg last week, shows that the troika uses gross financing needs, rather than stock of debt, when calculating sustainability.)