Empty Greek ATMs Force Tourists to Stiff Santorini Cabbies
Ilya Gridneff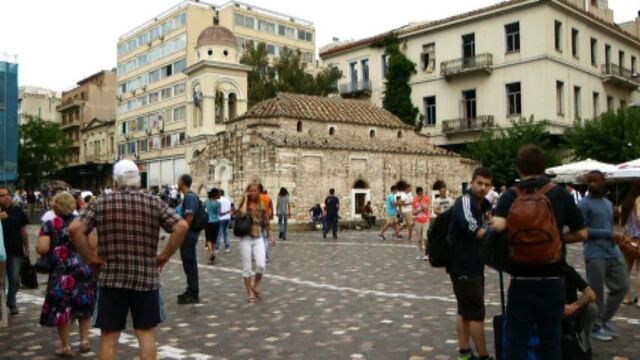 The last euros left the only ATM on the Greek island of Agistri on Sunday afternoon.
"My boyfriend and I couldn't pay for the motorbikes we'd hired on the island and only gave the owner our last 20 euros," said Emile Fitzsimmons, a 24-year-old studying law in London, who was on her way to the Acropolis in Athens Monday afternoon. Now armed with enough cash to get by until her departure Tuesday, her concern was for the Greek people. "Being here on holiday, I realize how serious it is for everyone."
As talks between the Greek government and its creditors suddenly broke down over the weekend and speculation of capital controls swirled, people all over the country tapped cash machines to get as much money as possible. Some had run out of money even before the government limited withdrawals at ATMs to 60 euros ($67) a person early Monday morning. Foreigners can take out as much as they want, provided a machine has any cash.
In a day and age when most tourists go abroad with little more than a credit or debit card, the sudden cash crunch is adding an unexpected wrinkle to holidaymakers' vacations, just as Greece enters peak tourist season. Kerry Carter and her family, for instance, landed in Athens on Sunday from Boston with little more than $140 and weren't able to access more at the airport.
No Cards
"It was a real worry when we arrived," she said, sitting outside the Church of Theotokos Gorgoepikos and Ayios Eleytherios. She tried to pay the cab driver with a credit card, though she said he just laughed. The family was able to access more money Monday.
What might be little more than an annoyance for foreigners compared to Greeks living with the more severe limitations, trouble for tourists is amplified throughout the economy. Tourism is one of the main sources of earnings for debt-ravaged Greece, accounting for about 17 percent of the economy.
Those in town won't be spending all the money they might have if they didn't need to worry about access to more and others are simply deciding not to come at all.
While tour operator TUI AG said the situation around Greece remains "calm" and Thomas Cook Group Plc said it hasn't received cancellations for Greek trips as of Tuesday, Majestic Travel founder Elman Vasileios said his agency has already taken 1,500 cancelations of Greek holidays this week, mostly from Americans.
Santorini Short
"People are scared -- the uncertainty," Vasileios said in his office. "I had to pay for the food of a client the other day. We are talking 20 euros. They just didn't have it. Six people in Santorini can't pay the taxi driver. I was just off the phone to them."
Cancelations will only exacerbate the problems for the Greek economy, said Kostas Mallios, who sells Ancient Greece-inspired trinkets at a shop. He depends on the six months of tourist season to stay solvent the rest of the year.
"I make my money from tourists but locals, they only really buy cigarettes," he said. Mallios, a 40-year-old who has worked at his shop for more than two decades, said he fears the crisis will scare tourists away. "We need them. I need them."
Ron Moore, a former teacher of Greek mythology, is bent on enjoying his trip. After heeding his tour guide's advice to take out extra cash for five days, he's able to pay in shops that are already declining credit cards.
Coming to Greece is "something I have always wanted to do," said Moore, a 71-year-old from South Carolina. He never expected he'd be caught in a modern-day Greek drama once here. As for what comes next: "I definitely hope it's not a tragedy."
Read this next: