markets
Draghi and Bunds the Answer to Riddle of Euro's Best Gain in 4 Years
Netty Ismail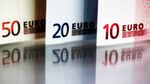 Riddle me this: How can the euro be heading for its best quarter in four years when Greece is on the verge of defaulting and possibly exiting the currency?
One answer is that Mario Draghi retains the faith of traders and investors that he won back in 2012 when the European Central Bank head pledged to do whatever it takes to hold the euro together. Another is that German yields rising by the most since 2010 are luring investors back to the region.

The common currency started the week tumbling almost 2 percent after Greek leader Alexis Tsipras's decision to call a referendum on aid proposals derailed negotiations with creditors. The euro then unwound losses amid reports German Finance Minister Wolfgang Schaeuble told lawmakers he doesn't view Greece as a contagion risk. It was at $1.1163 as of 8 a.m. in London, poised for a 4 percent advance for the quarter, the most since the three months ended March 2011.
"Given that the risks of a default and an exit have obviously risen quite dramatically in the last week, I would have expected the euro to be weaker," said Ray Attrill, global co-head of currency strategy at National Australia Bank Ltd. in Sydney. "There is a fairly genuine sense of complacency or belief that it really doesn't matter how Greece plays out next week."
Draghi's Tools
Draghi has more than words on his side if this round of Greek roulette gets messy. In addition to emergency facilities to support the region's banks -- a program that has already kept Greece's lenders alive -- the ECB is already buying 60 billion euros ($67 billion) a month of bonds and it can increase asset purchases through the so far unused Outright Monetary Transactions program.
The ECB head also sought to calm investors about the selloff that drove bund yields up 57 basis points since March to 0.75 percent.
As the deadline on Greece's 1.5 billion euro payment to the International Monetary Fund passes Tuesday and the current bailout deal expires, European leaders are still holding out the opportunity for the nation to win back enough of their goodwill to secure fresh aid and continued membership of the euro. Opinion polls show a majority of Greeks support the Mediterranean country to remain in the currency bloc. Greece will hold a referendum on its bailout terms on July 5.
The ECB will be key in coming weeks, according to Mohamed El-Erian, the former chief executive at Pacific Investment Management Co., who also sees an 85 percent chance Greece is forced out of the euro.
"If the European Central Bank steps in with a larger QE, with a larger asset purchase program plan and therefore creates a firewall around the peripheral bonds -- those of Italy, of Portugal and of Spain -- then the ECB can go a very long way in limiting contagion," El-Erian said in an interview with Bloomberg broadcast on Monday.
Before it's here, it's on the Bloomberg Terminal.
LEARN MORE