Christie Economic Policy Tied to Corporate, Individual Tax Cuts
The New Jersey governor faults President Obama's focus on "redistribution of wealth" for weakening the U.S. economy, and vows to reverse course.
By and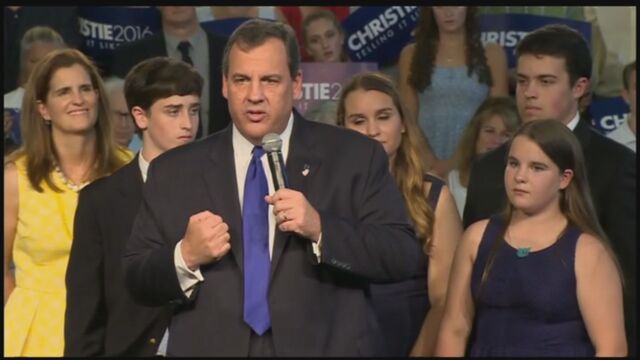 The heart of Chris Christie's economic plan is 4 percent annual growth driven by what he called "a flatter, fairer, simpler" tax code that rewards U.S. businesses for not sending jobs overseas.
Christie, the 52-year-old Republican New Jersey governor who is set to announce the start of his presidential campaign Tuesday, attributes the weak recovery from the 18-month national recession to seven years of Democratic leadership in the White House. In a speech to a New Hampshire audience on May 12, he said President Barack Obama has focused on "redistribution of wealth" rather than on strengthening the middle class. 
One adviser is Robert E. Grady, a former Carlyle Group LP partner, who in March joined San Francisco-based Gryphon Investors Inc., a private-equity firm, after resigning as chairman of the New Jersey State Investment Council. Grady, who lives in Wyoming, accompanied the governor last year on trade and energy policy trips to Mexico and Canada. He was a speechwriter and aide in the administrations of Presidents George H.W. Bush and George W. Bush. 
Even as Christie traveled internationally, his home state has lagged behind the U.S. and neighboring states on jobs and revenue growth. His 2010 cancellation of Access to the Region's Core, a Hudson River rail link between Manhattan and New Jersey, snuffed a potential $9 billion in business revenue and 44,000 permanent jobs, according to the Government Accountability Office, which monitors spending for the U.S. Congress. 
In a Christie administration, tax brackets would be reduced to three, from six, with burdens ranging from less than 10 percent to 28 percent, he said in a New Hampshire policy speech. He would end some deductions, though leave those for first-home mortgage interest and for charitable giving. 
For businesses, he would allow a one-time chance to bring back profits earned overseas at a lowered tax rate of 8.75 percent. For a corporate tax rate that he called the highest in the industrialized world, he proposed a 10 percent cut, to 25 percent. 
"It is time to tell investors that America is again open for business," Christie said at the University of Manchester. "The American people can again build an economy that will be a growth leader and not a growth laggard."