Chris Christie Joins Presidential Campaign, Promising Straight Talk
The New Jersey governor becomes the 14th Republican to join the primary contest.
By and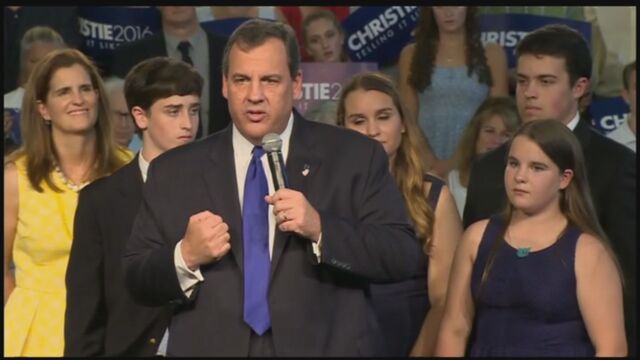 Governor Chris Christie, whose brand of Jersey-guy brashness was tarnished by a political-payback scandal, said Tuesday that he's running for U.S. president, the 14th Republican to join the 2016 primary contest.
The two-term governor of New Jersey appeared in Livingston, the Newark suburb where his parents, he says, achieved the middle-class standard of homeownership and prosperity. Later, he plans to travel to Sandown, New Hampshire, to preside over a town-hall meeting—a routine he's done 137 times in New Jersey. 
Four years ago, Christie, who runs a state where registered Democrats outnumber his party by more than 700,000, turned down overtures from party leaders and business executives, saying "now is not my time" to seek the White House. Some early backers, such as Home Depot Inc. co-founder Kenneth Langone, have signed on again, even as Christie must answer for New Jersey's lackluster economic recovery, a failed promise to fund a pension system with an $83 billion unfunded liability, and record-low home-state approval.
In New Hampshire, the first-in-the-nation primary state key to his aspirations, a Suffolk University poll of Republicans released on June 23 put Christie behind former Florida Governor Jeb Bush, real estate mogul Donald Trump, Wisconsin Governor Scott Walker, U.S. Senator Marco Rubio and retired neurosurgeon Ben Carson.
Christie said Tuesday that his brand of blunt discourse would bring about a new era of functional politics and soothe citizens facing an uncertain future. He pledged not to dissemble, "a campaign without spin, or without pandering or focus group-tested answers. You're going to get what I think, whether you like it or not, or whether it makes you cringe every once in a while or not."
He said that the nation has succumbed to a crippling fear of being disliked.
"If we're going to lead, we have to stop worrying about being loved and start caring about being respected again, both at home and around the world," he said. "I am not running for president of the United States as a surrogate for being elected prom king of America."
For the backdrop to Tuesday's announcement, Christie chose Livingston High School, 22 miles (35 kilometers) from New York City, to focus on an American way of life that he promises to resuscitate, with a tax policy that rewards business as the builder and sustainer of the middle class.
It was in Livingston where a teenage Christie got a taste for New Jersey politics by volunteering on the campaign of Thomas H. Kean, a Republican resident elected governor. He became buddies there with Harlan Coben, the future best-selling novelist, and Bob Grady, who would become managing director of Carlyle Group Inc. and a senior policy adviser to Presidents George H. Bush and George W. Bush.

The campaign's news release noted that Christie was class president for three years at Livingston High School. A half-hour before Tuesday's event was to kick off, a chant of "Christie! Christie!" went through the crowd of 1,000 in the gymnasium. 
Another Livingston High alumnus, David Wildstein, would have an enduring and unwelcome link to Christie years later as a central figure in the George Washington Bridge scandal. Asked about their relationship at a news conference on Jan. 9, 2014, after published e-mails indicated that the jams were planned, Christie said, "You know, I was the class president and athlete. I don't know what David was doing during that period of time."
Wildstein, 53, is awaiting sentencing after admitting in federal court in Newark on May 1 that he orchestrated bridge lane closings to bring traffic to a halt in Fort Lee, whose mayor didn't endorse Christie for re-election. Two other former Christie allies, indicted by a federal grand jury, have pleaded not guilty in the case.
In a field that includes graduates of some of the nation's most exclusive private prep academies and Ivy League universities, Christie springs from humbler roots. His late mother, Sondra, was a public-school employee and his father, Bill, is a retired accountant who earned his college degree at night, after shifts at an ice-cream plant.
Christie, the eldest of their three children, met his wife, Wall Street bond trader Mary Pat Christie, at the University of Delaware, where he majored in political science; she left her position as a managing director of the New York investment firm Angelo Gordon & Co. in April, according to Christie's office, to spend more time with the younger two of their four children. Christie's wife and children joined him on stage for his speech Tuesday.
The family lives in Mendham, in the swath of central New Jersey known as "horse country" for its equestrian estates. Christie and his wife reported income of $698,838 in 2013, and paid $193,510 in state and federal income taxes, according to records released by the governor's office. They have filed for an extension to report their 2014 earnings.
A former U.S. attorney appointed by President George W. Bush, the brother of 2016 contender Jeb Bush, Christie made his name with prosecutions of more than 100 corrupt public officials. In the 2009 governor's race, he campaigned on promises to shrink government and rein in property taxes that are highest among U.S. states. He ousted Democrat Jon Corzine amid voter discontent with high taxes and a worsening economy.
Christie built a national fan base for a willingness to take on public employee unions and his tendency to skewer critics with Jersey-style invective in moments that live in YouTube infamy. 
He's the candidate "to bring back Americanism," said Karen Neary, a 68-year-old retired middle-school teacher from Fords, as she waited in the gymnasium. She said she wouldn't be joining the hundreds of New Jersey Education Association union members at a rally outdoors to protest Christie's skipped pension payments.
"If we all have to tighten our belts, then so be it," Neary said.
In Iowa and New Hampshire, testing grounds for candidates, Christie has outlined his positions on education, entitlements, economic growth and foreign policy.
"Our friends can no longer trust us, and our adversaries no longer fear us," he said Tuesday.
In New Jersey, Christie cut taxes on businesses and vetoed increases on the highest earners as he scaled back public-worker benefits. His overestimated revenue forecasts and reduced pension contributions have contributed to nine credit downgrades, a record for a governor of the state.
Still, Christie is a proven fundraiser, having drawn a record $106 million as chairman of the Republican Governors Association, with 31 states under the party's executive control after the 2014 mid-term election.
CORRECTION: An earlier version of this story misspelled the name of Harlan Coben.