Bobby Jindal Gets Endorsement of Heavily Bearded Heavy Hitter
Margaret Newkirk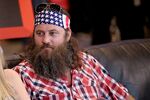 Louisiana Governor Bobby Jindal, who has pegged his presidential hopes on the evangelical vote, won the support of a bearded patriarch representing a tribe from a remote land.
No, not Moses.
Willie Robertson, who appears the "Duck Dynasty" reality show, sent a fundraising e-mail on Jindal's behalf on Tuesday.
"Bobby has my vote," it says. "Can you do me a quick favor and donate to Bobby's campaign?"
The show on the A&E network follows a family that made itself rich manufacturing duck calls in rural Louisiana. Its stars, including Willie Robertson and his father, Phil, are known for their Old Testament facial hair, deeply held Christian beliefs and occasional forays into political-biblical commentary.
Louisiana, which is trying to close a $1.6 billion budget hole, gives the show as much $415,000 per episode in tax breaks, thanks to the nation's most generous incentive program.