technology
Uber Executives Questioned in France After Taxi-Driver Protests
Eric Newcomer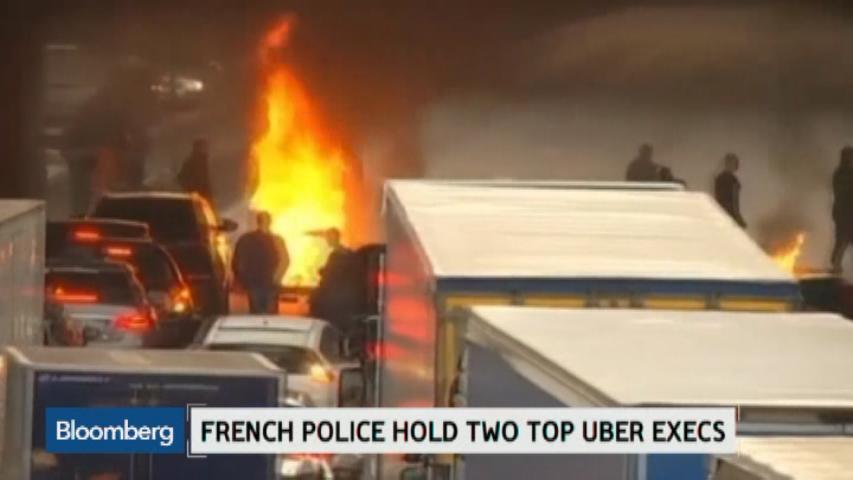 Two Uber Technologies Inc. senior managers are being held by French police, after rival taxi drivers violently protested the company's ride-sharing service last week.
The head of Uber's operations in France, Thibaud Simphal, and the car-booking company's general manager for Western Europe, Pierre-Dimitri Gore-Coty, are in custody, San Francisco-based Uber confirmed. Both work for Uber BV, a subsidiary of the parent company.
"We are always happy to answer questions the authorities have about our service -- and look forward to resolving these issues," Gareth Mead, a spokesman for Uber, said in a statement. "Those discussions are ongoing. In the meantime, we're continuing to ensure the safety of our riders and drivers in France given last week's disturbances."
Agence France-Presse first reported that the Uber executives were in French custody. French police didn't return calls seeking comment and the French Interior Ministry referred all questions to the police.
Last week, French taxi drivers staged a violent protest against the low-cost ride-hailing service UberPop.
"UberPop must be dismantled and made illegal," French President Francois Hollande said at a news conference last week in Brussels during the European Council summit. "And cars will have to be seized. But we live by the rule of law and the state won't seize the cars itself, it must be authorized to do so by a court decision."
Uber has denied that it is operating illegally, arguing that courts have consistently declined to block UberPop from operating in France. The company said it has filed a legal complaint with the European Commission accusing France of violating a European Union treaty.
Before it's here, it's on the Bloomberg Terminal.
LEARN MORE