business
Something New on Bloomberg TV: 'What'd You Miss?'
Watch today!
By
Something New on Bloomberg TV: 'What'd You Miss?'
Watch today!
By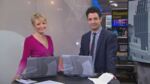 Today at Bloomberg, we're launching something new: A daily TV show at the close of the U.S. market titled 'What'd You Miss?' that will be hosted by Alix Steel and myself.
Basically, Alix and I are obsessed with financial markets and market data, and every day we'll tell you about what we saw and why it's interesting. The goal is to produce something that's sophisticated enough for a Wall Street audience, while at the same time being clear enough so that everyone can take something away from it.
Don't think German bunds, GDP revisions and oil storage capacity constraints are interesting topics? We want to convince you that they are, and that you should care. And we can do this thanks to the Bloomberg terminal's unparalleled trove of data and charts, and Bloomberg News' legendary breadth of expertise.
Neither Alix nor I come from traditional TV backgrounds. Rather, TV is the latest medium for us to talk about the things we really care about it. But seeing as it's 2015, we're not just doing this show with TV in mind. You'll be able to watch it live online, and the show is designed to be turned into video that you'd want to watch and share anytime and anywhere.
So tune in to Bloomberg TV weekdays at 4:00 PM ET to 'What'd You Miss?', and get caught up on the most important stories in financial markets right now. If you're not in front of a TV, the show will stream live on your preferred device and will be available on Apple TV, Amazon Fire TV, and Android TV.