Obama Brings Rousseff to King Memorial to Begin Washington Visit
Toluse Olorunnipa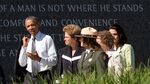 President Barack Obama welcomed Brazilian President Dilma Rousseff to the White House Monday for a delayed visit, then promptly took her out to see the sights.
Obama brought Rousseff to the memorial honoring civil rights leader Martin Luther King Jr., located on Washington, D.C.'s Tidal Basin between memorials to presidents Thomas Jefferson and Abraham Lincoln.
Over the past year, Obama has made trips to the monuments on the National Mall a regular part of meetings with heads of state in Washington.

"The visit provided the leaders an opportunity to reflect together on Dr. King's lifelong work for equality and justice, and against racism and intolerance," the White House said in a statement.
The two leaders have moved to repair relations since Rousseff canceled a planned state visit to Washington in 2013 after documents leaked by National Security Agency contractor Edward Snowden suggested the U.S. was spying on her. Obama and Rousseff will dine privately at the White House later on Monday.
Among the topics on the agenda for Tuesday's official meetings, Obama and Rousseff will talk about trade and climate change. Signaling that the U.S.-Brazil relationship is back on track might be the most significant outcome of the visit, said Brian Winter, editor-in-chief of Americas Quarterly, a magazine that covers policy issues in the Western Hemisphere.
Sending Signals
"In some ways the atmospherics are the most important thing about this meeting," he said during a June 24 event hosted by the Council of the Americas. "These things matter –- when two presidents can sit across from each other and have a good conversation, and send the right signals to each other."
Rousseff, whose popularity has sagged amid a corruption probe into Brazil's state-run oil company, could benefit politically from appearing in friendly settings with Obama, Winter said.
Her approval rating has plunged to just 10 percent, according to the latest survey by Datafolha polling firm.
Sixty-three percent of Brazilians, on the other hand, say they have confidence in Obama, according to a survey completed May 4 by the Pew Research Center.
Obama has taken impromptu trips with other world leaders after they arrived in Washington. Earlier this year, he toured the Lincoln Memorial with Japanese Prime Minister Shinzo Abe. Last September, Obama and Indian Prime Minister Narendra Modi stopped at the King memorial.