Iran Talks on Pause as Zarif Consults Top Leaders on Sanctions
Kambiz Foroohar and Jonathan Tirone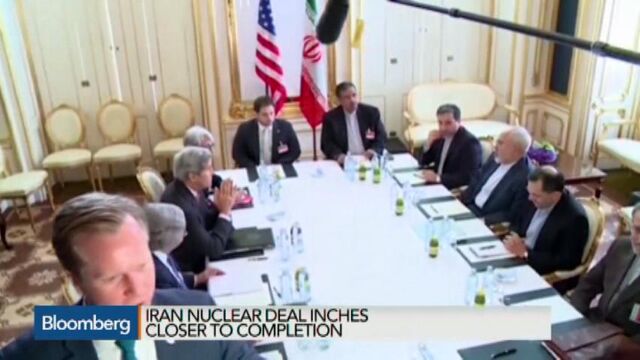 French Foreign Minister Laurent Fabius said his Iranian counterpart left nuclear talks in Vienna for discussions with the country's leaders on removing sanctions, suggesting the issue remains a major hurdle to a deal.
Iran's top diplomat, Mohammad Javad Zarif, traveled to Tehran on Sunday and is expected to rejoin talks in the Austrian capital on Tuesday. He gave no reason for his departure, which came just 48 hours before a self-declared deadline for an accord on capping Iran's nuclear program.
"We have made some progress but still it is not the end of a process," Fabius said in New York. The Iranians are seeking precision about the lifting of sanctions and that's why Zarif left, Fabius told reporters, adding that he plans to return to Vienna this week.
Iranian officials have repeatedly called for all sanctions -- which have halved Iran's oil exports since 2012 and cut it off from investment and the global financial system -- to be lifted once a deal is agreed. The U.S. and its allies want the curbs to be removed in phases as Iran is shown to be implementing any deal.
Fabius's comments came as the White House denied reports that U.S. President Barack Obama had sent a new letter to Iran's top officials last week. Iranian media had reported the letter's existence without elaborating on its contents.
As well as the issue of sanctions, envoys are struggling to find common ground on how deep and broad international monitoring of Iran's declared and suspected atomic sites should be. Participants in Vienna expect the talks to overrun the June 30 deadline.
Lavrov Arrival
On June 23, Iran's Supreme Leader Ali Khamenei ruled out "unconventional" access by the International Atomic Energy Agency, signaling his continued opposition to inspectors being allowed to enter military bases.
U.S. Secretary of State John Kerry on Monday met with IAEA Director General Yukiya Amano at the Palais Coburg in Vienna, where the agency has increased its presence.
Although not formally part of the talks with the world powers at the table, the IAEA will play a critical role under a deal.
Before the Islamic Republic gets full relief from global sanctions, the agency will need to finish a 12-year investigation into the possible military dimensions of its nuclear work, verify enrichment-capacity restraints have been implemented and confirm that Iran has adopted stricter monitoring rules under the so-called Additional Protocol.
For more, read this QuickTake: Iran's Nuclear Enrichment