business
Greece Imposes Capital Controls as Fears of Grexit Grow
Christos Ziotis, Paul Tugwell and Nikos Chrysoloras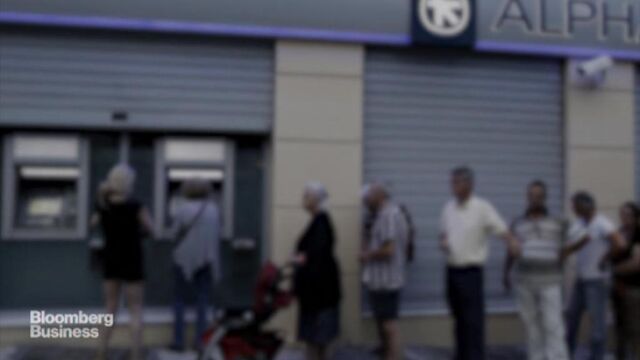 Greece shut its banks and imposed capital controls in an announcement designed to avert the collapse of its financial system, heightening the risk it will be forced out of the euro. European stocks and Greek bonds tumbled.
The measures, which were announced in the dead of night, limit daily cash withdrawals to 60 euros ($66) and ban payments and transfers abroad. The stock market and banks will be closed at least until July 6, the day after Greeks will vote in a referendum on proposals needed to restore bailout aid.
Prime Minister Alexis Tsipras struck a defiant tone as he announced the move in a televised statement and on Twitter.
"A Greek exit has become our base case, which means the risk premia for holding European assets are going to increase," Hans Redeker, global head of currency strategy at Morgan Stanley, said in an interview. "The European Central Bank will have to act against that."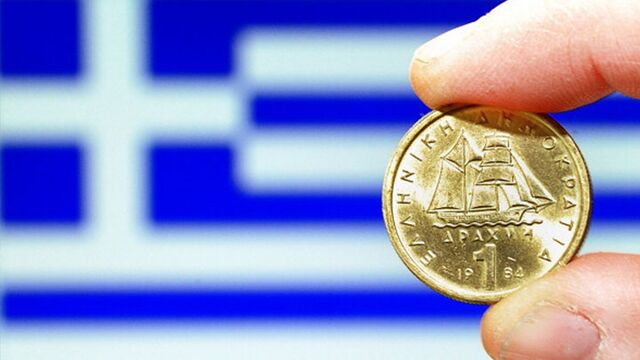 Prime Minister Alexis Tsipras, who promised to return "dignity" to the people and reject budget cuts imposed by creditors, appealed for "calm" after weekend-long queues at ATMs and gas stations. The Euro Stoxx 50 Index fell 3.3 percent at 12:10 p.m. in Athens. Greek 10-year notes plunged by the most since at least 1998, driving the yield to 14.6 percent, the highest since December 2012. German bunds rose the most since 2011, sending the 10-year yield to 0.77 percent.
Franc Effect
The euro fell 0.6 percent to $1.1093. The currency pared its loss following purchases by the Swiss National Bank to curb gains in the Swiss franc.
The bank controls followed a weekend of turmoil that started with Tsipras's shock announcement late Friday of a July 5 referendum on austerity. People rushed to line up at ATMs and gas stations after the breakdown of aid talks late Friday and an ECB decision to freeze its lifeline to Greek banks. Greece is the second euro-area country, after Cyprus in 2013, to impose capital controls.
---
Greek Capital Controls
Banks closed up to and including July 6
Wages and pensions will be paid
Daily ATM withdrawal limit of 60 euros ($67; £42)
No restriction on foreign tourists using ATMs
Electronic transactions unaffected: Greek debit/credit cards can be used
History shows capital controls usually don't work
But government insists deposits are safe
---
While markets have essentially stopped trading Greek default insurance, sovereign debt risk signaled by the contracts surged. Credit-default swap prices implied a 94 percent probability of default within five years, up from 71 percent on Friday, according to data compiled by CMA.
'Patience, Composure'
"In the coming days, what's needed is patience and composure," Tsipras said on television. "The bank deposits of the Greek people are fully secure. The same applies to the payment of wages and pensions -- they are also guaranteed."
German Chancellor Angela Merkel spoke to President Barack Obama on Sunday, agreeing on the importance of keeping Greece in the euro.
The developments marked an abrupt turn from last week, when markets rallied on hopes a deal between Tsipras's government and creditors -- the ECB, European Commission and International Monetary Fund -- was at hand.
The optimism vanished after midnight on Friday with Tsipras's call for the referendum just days before the June 30 expiry of the current bailout and a $1.7 billion payment due to the IMF. Greece also faces repayment of 3.5 billion euros of bonds held by the ECB that mature July 20.
Markets React
The ECB on Sunday froze the ceiling on Emergency Liquidity Assistance to Greek lenders at just below 89 billion euros, refusing for the first time this year to maintain a buffer as deposits sank.
Adding to the confusion is uncertainty over the contents of the referendum as there was no defined aid proposal. The European Commission on Sunday published a 10-point summary of what they said was the state-of-play when talks collapsed.
The list was published "in the interest of transparency and for the information of the Greek people" before the vote and included increases in value-added taxes, cuts in pension spending and primary-surplus targets through 2018.
In the aftermath of the Brussels talks, Greeks lined up to get access to as much of their money as they could from ATMs. Skai television reported as much as 1 billion euros was withdrawn.
"When you close the banks for several days, you basically trigger an economic depression," Mohamed El-Erian, chief economic adviser at Allianz SE, said in a Bloomberg TV interview. "The government is going to have to issue IOUs and that's going to become a parallel currency, so this is a tragic situation that is very difficult to control on the ground."
Blackmail, Injustice
Tsipras moved to bolster confidence and focus blame on Greece's creditors, who have demanded continued austerity after extending 240 billion euros in bailout commitments since 2010.
"The dignity of the Greek people in the face of blackmail and injustice will send a message of hope and pride to all of Europe," he said in the televised statement, maintaining the confrontational tone that has characterized his six-month old government.
While Tsipras and his government urged a "no" vote in the referendum, he repeated his request to the European Commission to extend the bailout at least until the ballot.
"A very dark day for Greece," Nicholas Economides, a professor at New York University's Stern School of Business, said by phone. "The Greek economy, already at standstill, will go to deep freeze."
Read this next:
(Updates with Morgan Stanley comment in third paragraph. For more on the Greek crisis, click here.)
Before it's here, it's on the Bloomberg Terminal.
LEARN MORE