Europe Urges Greece to Resume Talks as Crisis Grows
Mark Deen and Helene Fouquet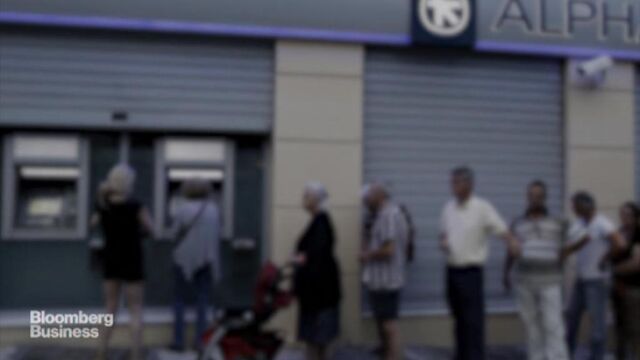 European policy makers urged Prime Minister Alexis Tsipras's government to return to the negotiating table and avert the growing risk that Greece falls out of the euro.
The exit of Greece from the 19-nation euro zone "is a risk -- it's the risk that is before the Greek people above all else," French Finance Minister Michel Sapin said on France Inter radio on Monday. "The truth is -- and the Greek people can see this -- do you want to continue the talks or do you want to take the risk of leaving the euro zone?"
Sapin's remarks are the strongest warning yet to Greece by President Francois Hollande's administration, which has consistently sought to broker a compromise during five months of talks on resuming bailout aid.
Hollande and German Chancellor Angela Merkel are among leaders across Europe holding emergency talks Monday to consider contingency plans after a weekend of turmoil that started with the shock announcement of a referendum on austerity measures demanded by the Greece's creditors.
---
Greek Capital Controls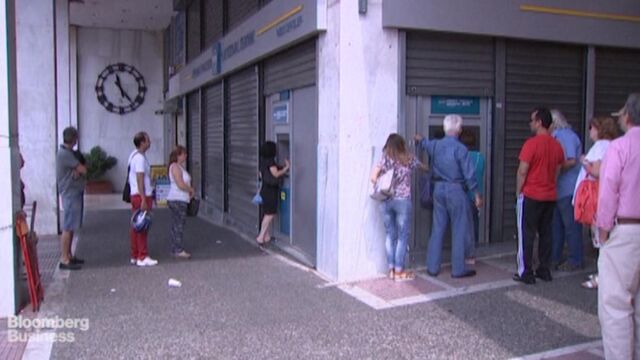 Banks closed up to and including July 6
Wages and pensions will be paid
Daily ATM withdrawal limit of 60 euros ($67; £42)
No restriction on foreign tourists using ATMs
Electronic transactions unaffected: Greek debit/credit cards can be used
History shows capital controls usually don't work
But government insists deposits are safe
---
Stock markets across Europe fell and German bonds rose on Monday as Greek banks remained shut and capital controls were imposed.
Spain's Economy Minister Luis de Guindos said there is still a chance of resuming talks with Greece before its current bailout program expires Tuesday night.
'Still Time'
"There is still time," Guindos said in a radio interview. "I think that there can still be negotiations so I wouldn't rule out that there could be an agreement from now to the time limit that is Tuesday at midnight and that the situation could indeed be back on track."
In Madrid, Spanish Prime Minister Mariano Rajoy is holding a meeting with his economic policy committee, while in the Netherlands Prime Minister Mark Rutte will meet with ministers and Dutch National Bank President Klaas Knot in The Hague.
Hollande held a meeting with minsters in Paris this morning and Merkel, who has yet to comment on Greece since Tsipras's surprise announcement early on Saturday, will meet with party chiefs and parliamentary caucus leaders in Berlin.
An agreement between the Greek government and creditors is still possible "in theory," if Tsipras returns to the negotiating table, German Vice-Chancellor Sigmar Gabriel told ZDF public television late on Sunday. All the same, Gabriel said, the Greek premier is making a mistake if he thinks he'll get a better offer.
"Greece is a member of the euro zone. It must remain so," European Economic Affairs Commissioner Pierre Moscovici said in a Twitter post on Monday. The referendum on which reforms to carry out "is a democratic moment that we have to respect," he said. "We must find a compromise."
Read this next: