Fines, Pensions and ATM Caps: A Guide to Greek Capital Controls
Nikos Chrysoloras, Marco Bertacche and Jenny Paris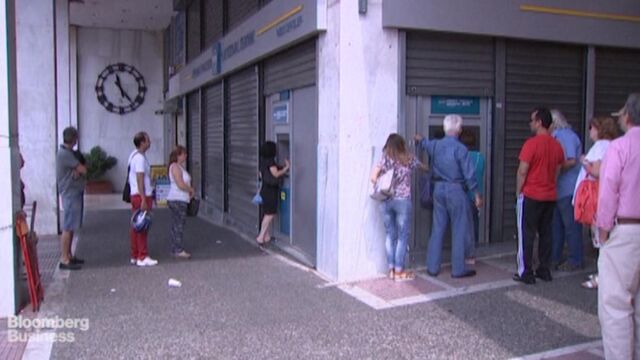 The Greek government issued a decree in the early hours of Monday requiring banks to shut through July 6, citing an "urgent and unforeseen" need to protect the financial system.
Here's the list of transactions that can still be processed by banks in Greece, including branches of foreign lenders, according to the decree published on the government gazette's website:
* Pensions payments.
* Cash withdrawals from ATMs for as much as 60 euros ($66) per day, per card, per account. The cap also applies to bank accounts linked to the same cards. No restrictions are imposed on withdrawals using debit or credit cards issued abroad.
* Payments with pre-paid credit cards, up to the existing limit. The issuance of new pre-paid cards is banned.
* Payments with credit or debit cards between accounts held in Greece.
* Payments and transfers via web-banking or phone-banking between accounts held in Greece.
* Payments from abroad to bank accounts held in Greece.
* Transactions of the Hellenic Republic.
* Payments for imports of essential goods, including medicine, after approval by a special state treasury committee.
* Clearance of payments for which the order was given before June 28.
* Greeks living or traveling abroad won't be able to use their debit cards for transactions exceeding the 60 euro limit. No credit card payments abroad will be possible.
* Parents who need to make payments to children studying abroad will need to apply for permission from the treasury committee.
* No penalties for overdue and missed payments can be charged for delays caused by the bank holiday. Banks that violate the decree could be liable for fines equal to 10 percent of offending transactions and could be forced to dismiss employees who approved them.
* The finance minister has the authority to extend or shorten the period of the bank holiday and amend the restrictions, including withdrawal limits.
For more, read this QuickTake: Capital Controls