European Stocks Tumble Most in Eight Months With Greece on Edge
Namitha Jagadeesh and Inyoung Hwang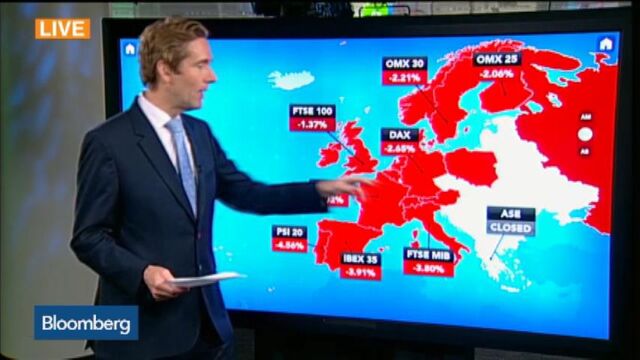 European stocks slumped as Greece teetered on the brink of default after bailout talks fell apart.
The Stoxx Europe 600 Index slid 2.7 percent to 386.17 at the close of trading, after losing as much as 3.2 percent. While the Athens Stock Exchange stayed shut, peripheral equities plunged. Spanish, Italian and Portuguese shares slid at least 4.6 percent. Germany's DAX Index lost 3.6 percent.
Greece closed its banks and imposed capital controls after Prime Minister Alexis Tsipras on Friday called for a July 5 referendum on austerity measures demanded by creditors. The country's current aid package expires Tuesday, when a deadline to pay the International Monetary Fund is also due.
"This episode showcases the structural flaws in the euro project and the limits of political will to hold it together," said Michael Ingram, a London-based market strategist at BGC Partners. "Absent a complete capitulation from the troika, Greece will default on the IMF tomorrow and emergency liquidity assistance should be withdrawn on Wednesday. I can't see anyone stepping in before Wednesday ahead of ELA withdrawal."
European Commission President Jean-Claude Juncker said voting no in the referendum "would signal that Greece wants to distance itself from the euro zone and Europe." Leaders of France and Germany, the region's biggest economies, offered no further concessions.
Trading Suspended
Trading on the Athens Stock Exchange will be suspended during a bank holiday lasting until July 6, the country's market regulator said. Among Greek companies listed elsewhere, the National Bank of Greece SA plunged 20 percent in New York, while Coca-Cola HBC AG lost 3.4 percent and Goldenport Holdings Inc. slipped 1 percent each in London.
Among exchange-traded funds tracking Greek shares, the Lyxor ETF FTSE Athex 20 slumped 15 percent in Germany before it was halted, while its French and Italian versions never opened. The Global X FTSE Greece 20 ETF slid 16 percent in New York.
The volume of Stoxx 600 shares changing hands was 40 percent higher than the 30-day average, data compiled by Bloomberg show. The benchmark measure had climbed 2.9 percent last week, the most since April, amid optimism over a deal. The VStoxx Index of volatility expectations for the Euro Stoxx 50 Index surged 15 percent to an eight-month high on Monday.
"Markets had a wait-and-see attitude for weeks, and investors had got more optimistic about the outcome in Greece," said Yukio Ikehata, managing director and head of international sales trading at Daiwa Securities Co. in Tokyo. "Now that's being reversed."
All 19 Stoxx 600 groups fell, with banks and carmakers plummeting the most. Banco Comercial Portugues SA, Banca Monte dei Paschi di Siena SpA and Banco Popular Espanol SA plunged at least 7.2 percent. Among auto shares, Daimler AG and BMW AG dropped more than 4 percent each.
TUI AG sank 7.1 percent. Thomson Airways Ltd. and First Choice Holidays Plc, owned by TUI, said over the weekend that some of its customers were victims of a terror attack in Tunisia.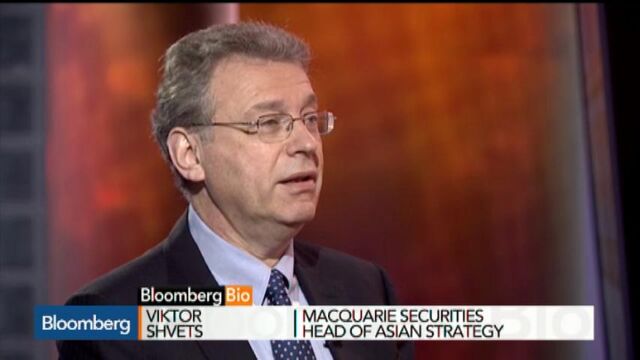 Read this next: