China's Central Bank Seen Cutting Rates Again, Just Not Yet
Bloomberg News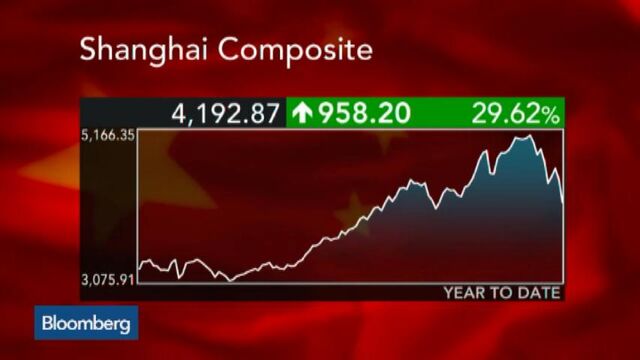 Take heart investors, more help from China's central bank is on the way, according to economists surveyed by Bloomberg News. The bad news: it may be a while in coming.
Eleven of 21 surveyed expect the People's Bank of China will cut lending rates at least once more by year end, according to a June 27-29 poll after the weekend's stimulus announcement. Thirteen expect rates will be held steady in the third quarter, while the median estimate is for a required reserve ratio of 17.5 percent by year end.
China's stock market volatility surged anew Tuesday, highlighting the challenge for PBOC Governor Zhou Xiaochuan as he seeks to underpin confidence. What may be giving economists more optimism than retail equities traders is anticipation that the mounting stimulus now in train -- including an easier fiscal stance -- will put a floor under China's slowdown.
"China is likely to see more stabilization signs in the coming months, and the pace of monetary policy relaxation should slow," said Yao Wei, a China economist at Societe Generale SA based in Paris. "The stock market can only influence the timing of particular monetary policy announcements -- whether it's this weekend or next weekend, but it's not a deciding factor for the direction of policy."
Stocks Slide
The Shanghai Composite Index jumped 5.5 percent to 4,277.22, the most since March 2009. The gauge swung 432 points from the highs and lows, propelling a volatility measure to a seven-year peak.
"Investors have been factoring in the easing for a while, and now that the central bank actually has done the easing, it's done," said Li Miaoxian, a Beijing-based analyst at BOCOM International Holdings Co. He thinks the PBOC has "approached the end" of its interest-rate cutting cycle.
The PBOC injected cash into the banking system in open-market operations Tuesday and lowered the lending rate on the funds, auctioning 50 billion yuan ($8.1 billion) of seven-day reverse-repurchase agreements at a 2.5 percent yield, according to traders required to bid at the sales.
Shen Jianguang, chief Asia economist at Mizuho Securities Asia Ltd. in Hong Kong, thinks the PBOC is done cutting rates this year, shifting the onus in the stimulus stakes.
"There is more room for fiscal policy to play a larger role," according to Shen. A local government debt-swap program will likely expand to 3 trillion yuan to match the amount of expiring local government debt this year, while idle government funds "should also be more fully utilized for tax reductions and social welfare spending, in order to stabilize growth and promote structural reforms," he wrote.
Other Options
Shen also expects two or three more cuts to banks' RRRs.
As for the share market's downturn, there may be other policy options. Chinese regulators are considering suspending initial public offerings to stabilize the market, according to people familiar with the matter.
"Stabilizing growth and channeling low cost financing to the real economy will remain the top priority," Chang Jian, chief China economist at Barclays Plc in Hong Kong, wrote in a note. The weekend rates move "sent a clearer signal that China's monetary easing is still in place," she said.
Chang expects one more benchmark rate cut of 25 basis points in the third quarter, accompanied by the removal of the deposit-rate ceiling. She's looking for one or two more half percentage point reductions to banks' reserve ratios in the second half, depending on liquidity conditions.
Meanwhile, the PBOC will continue to implement targeted easing measures to improve the transmission of monetary policy, including guiding market rates lower via liquidity management tools and increasing direct lending to policy banks, Chang said.
Easing Cycle
The PBOC's easing cycle started in November, when it cut the lending rate from 6 percent to 5.6 percent. Three further quarter percentage point reductions have brought it to 4.85 percent, still high by global standards. Bloomberg's monthly gross domestic product growth tracker has been below the government's 2015 growth goal of about 7 percent all year.
"With the policy response slow in arriving, the risk of monetary easing continuing further into the second half is on the rise," said Helen Qiao, Hong Kong-based chief greater China economist at Morgan Stanley.