`Freight Train of Unknowns' Confronts Investors With Greece
By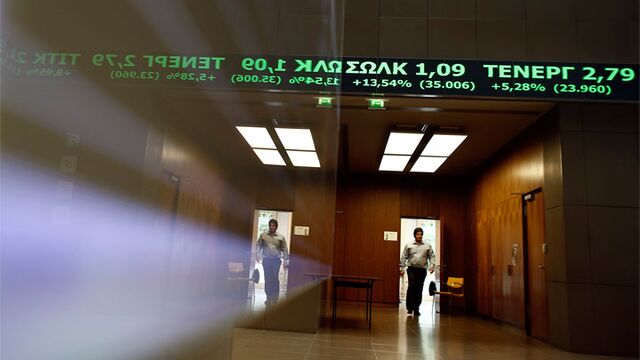 It's one of those Monday mornings following one of those weekends which created more questions than answers. So it may be premature at best, or pointless at worst, to attempt to figure out what sort of long-term scar tissue will be left on global markets from the decision by Greece's leader to hold a referendum on the country's international aid.  

There are simply "a freight train of unknowns" confronting markets today,  as Weeden & Co.'s chief global strategist Michael Purves wrote in a note today. Among the boxcars on that train are piles of question marks surrounding the actual language of the Greek referendum, who will run the country if voters don't follow Prime Minister Alexis Tsipras's advice to reject terms of the international bailout, and what sort of social unrest could develop as a result of the whole mess. 

For investors looking for simple answers, there are only difficult questions as Greece shuts its banks and stock market for the week.

"We simply won't know the answers to these questions for some time, and risk markets will be heavily defined by the enduring confusion," Purves wrote in a note to clients. 

It can sometimes be comforting or illuminating to look back at the behavior of markets during similar shocks to the system in an attempt to construct a model of what the reaction will look like this time. Sam Stovall at S&P Capital IQ did just that this morning. If you are comforted by knowing what average behavior is, you can look at his study and see that a median one-day drop of 2.4 percent was seen after 14 market shocks as wildly disparate as the President Kennedy's assassination, the Sept. 11 terror attacks, the Lehman Brothers bankruptcy and Japan's 2011  tsunami.

The medians show that the U.S. stock market found its bottom following an eight-day, 5.2 percent drop after these shocks. The median time to recover the losses was 14 days.

Still, a closer look at these shocks shows how wildly different they can be, and how little comfort or illumination the medians provide. Will it take one day for the market to find its bottom, as it did after the Kennedy assassination or Flash Crash of 2010? Or will it take 121 days like the aftermath of Lehman? Will it take two days to recover, or 285? 

These are shocks after all, and by definition their effects are hard to predict. Still, the events that took longer to play out usually occurred during bear markets that had already started, Stovall points out. As such, they may not be comparable to the current situation.

"Unanticipated events that occur within bull markets that throw share prices for a loop are typically assessed for their economic impact in short order, allowing opportunistic traders to step in and quickly push share prices back to breakeven and beyond," Stovall wrote.

So how do you assess the economic impact now?  For Fundstrat Global Advisors co-founder Thomas Lee, a potential Greek exit from the euro zone is not a game-changer for his bullish outlook  on U.S. stocks, though he said investors may favor high-quality, larger companies in the short term.

Markets are much better prepared for an exit than they were four years ago, he wrote. The private sector has swiftly cut its holdings of Greek debt: European banks are exposed to about 11 billion euros ($12.6 billion) and U.S. financial institutions have a similar amount, Lee wrote, citing Bank for International Settlement figures. 
So what could go wrong? 

Lee's main concern is of a large, undisclosed holdings of Greek debt at a hedge fund or other financial institution: "The greatest risk, in our view, is if a fund or bank has such large exposure, that it defaults on its liabilities. We see the risk as small, given the broad consensus on limiting exposure." 

Still, that specter could linger for a while. 

"It could be a bumpy few weeks," Lee wrote.