S&P 500 Wipes Out Gain for Year as Greece Spurs Global Selloff
Joseph Ciolli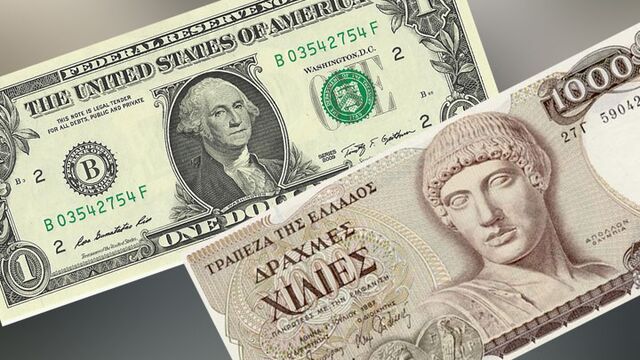 The Standard & Poor's 500 Index retreated the most since April 2014, wiping out a gain for the year, as global equities sold off amid concern over fallout from the Greek financial crisis.
Financial shares in the benchmark index fell 2.5 percent as Citigroup Inc. and JPMorgan Chase & Co. slipped at least 2.5 percent. DuPont Co., Visa Inc. and Boeing Corp. tumbled more than 2.6 percent to pace declines in the Dow Jones Industrial Average. National Bank of Greece ADRs plummeted 24 percent, and the Global X FTSE Greece 20 ETF tumbled 20 percent.
The S&P 500 Index sank 2.1 percent to 2,057.64 at 4 p.m. in New York, falling toward its average price for the past 200 days. The Dow lost 350.33 points, or 2 percent, to 17,596.35, the biggest drop since October. The Nasdaq Composite Index fell 2.4 percent, the most since April 2014, while the Russell 2000 gauge decreased 2.6 percent for its worst day this year.
About 7.4 billion shares traded hands on U.S. exchanges, 16 percent above the three-month average. The Chicago Board Options Exchange Volatility Index surged 34 percent, its biggest increase since April 2013.
"We finally reached the breaking point," said Michael James, a managing director of equity trading at Wedbush Securities Inc. in Los Angeles. "With so much uncertainty around a potentially negative outcome, the knee-jerk reaction will be to reduce risk assets. You have a potentially very ugly situation this week."
Greek Measures
Greece closed its banks and imposed capital controls, a measure that will deepen the country's recession and risk driving it toward an exit from the euro. Talks over bailout aid with international creditors collapsed late Friday, as Prime Minister Alexis Tsipras unexpectedly called a July 5 referendum on the austerity demanded by creditors. The European Central Bank froze the level of emergency aid available to Greek lenders Sunday.
U.S. stocks extended losses in afternoon trading as S&P cut its rating on Greece, with a negative outlook, and said the probability of the country exiting the euro zone is about 50 percent.
"There was an expectation that something would break positively at the last minute, but it appears it's going to be a little messier than that," Kevin Caron, a market strategist and portfolio manager who helps oversee $170 billion at Stifel Nicolaus & Co. in Florham Park, New Jersey. "As things get worse with the Greek economy -- social unrest, nervousness and the possibility of an EU exit -- there's the potential for even more weakness."
Global Indexes
Global stocks plunged, with the MSCI All-Country World Index falling 2 percent for its steepest slide since June 2013. The Stoxx Europe 600 Index slipped 2.7 percent, the most this year, and the Nikkei 225 Stock Average lost 2.9 percent. The Shanghai Stock Exchange Composite Index lost 3.3 percent to enter a bear market.
Gauges of stock volatility surged around the world as the weekend meltdown in Greece collided with China's market unraveling and traders bought hedges to stanch the bleeding. The CBOE's volatility index, known as the VIX, reached its highest level since February and erased its decline for the year.
The tumble in U.S. equities jolted traders out of a two-month torpor, as many had shrugged off the drama unfolding in Greece. The S&P 500 hasn't had a weekly move of more than 1 percent since April, and the last time it had a single-day move of more than 2 percent was Dec. 18.
The benchmark's decline Monday left it down for the last three months, threatening to halt a streak of nine straight quarterly gains, the longest run since 1998. The S&P 500 has dropped for four straight days, the longest stretch of losses since March.
Buying Opportunity
The Greek financial crisis provides a good opportunity for investors to snap up U.S. stocks, says Morgan Stanley chief U.S. equity strategist Adam Parker. The current level of U.S. economic strength should be enough to make stock investors look past temporary worries over Greece, especially with earnings coming up next month, he said.
"I want to buy this dip right now," Parker said in a television interview on "Bloomberg Markets" with Olivia Sterns and Scarlet Fu. "A couple of weeks from now when earnings kick off you'll probably go a whole day on Bloomberg without mentioning the word Greece."
Leon Cooperman, the founder of the $9.2 billion Omega Advisors, said he sees less than a 50 percent chance of Greece leaving the euro zone.
The turmoil in Greece prompted questions about the outlook for higher U.S. interest rates.
Fed Hike
"It's possible that the Fed won't be in as much of a hurry to raise rates" John Carey, a Boston-based fund manager at Pioneer Investment Management, which oversees about $230 billion, said by phone.
Federal Reserve Bank of New York President William Dudley said in an interview with the Financial Times that a September interest-rate increase is "very much in play," after recent stronger-than-forecast data.
A report today showed contracts to purchase previously owned homes rose in May for a fifth month, indicating recent strength in the real-estate industry will be sustained. Other reports this week include data on manufacturing, home prices and construction spending, as well as the government's monthly payrolls report due Thursday.
All 10 of the S&P 500's 10 main groups declined at least 0.6 percent Monday, with financial, consumer discretionary and raw-material shares tumbling more than 2.3 percent.
Charles Schwab Corp. and Morgan Stanley decreased more than 3 percent to pace losses in the S&P 500's financial sector, which saw all 88 companies fall. The group declined the most since February 2014. MetLife Inc. and Prudential Financial Inc. slid at least 3.3 percent.
Bond Insurers
Shares of the two biggest bond insurers dropped while a gauge of their credit risk surged as Puerto Rico's governor called the island's $72 billion of debt "unpayable." Assured Guaranty Ltd. lost 13 percent, the most in more than three years, while MBIA Inc. slumped 23 percent to its lowest since August 2011.
Consumer discretionary stocks in the S&P 500 sank 2.5 percent. Macy's Inc. fell 4 percent, its biggest decline since August, after Deutsche Bank AG downgraded the department-store chain, citing a sales slump and mounting expenses from shipping, retirement and health-care.
Raw-material companies in the S&P 500 slid the most since January. Dow Chemical Co. dropped 3.6 percent while DuPont lost 3 percent to its lowest level in 16 months.
Fiat Chrysler Automobiles NV, which makes about a quarter of its sales in the region that includes Europe, retreated 6.8 percent.
Before it's here, it's on the Bloomberg Terminal.
LEARN MORE