The Audacity of Obama
The president returns to a Biblical touchstone as he heads into the home stretch of his second term.
By and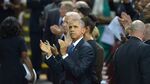 There's a passage in the Bible that has spoken to Barack Obama time and again, inspiring him, provoking him, haunting him, and goading him on. "Now faith is the substance of things hoped for," the apostle Paul wrote in his letter to the Hebrews, "the evidence of things not seen."
Hebrews 11:1 is a passage about the power of hope and belief in the face of gnawing doubt. It was the Biblical verse that prompted "The Audacity to Hope," a celebrated sermon by Obama's former pastor at a black church in Chicago, the Reverend Jeremiah Wright. It inspired Obama's 2004 speech at the Democratic National Convention that paved his way to run for president, and it gave him the title for his 2006 memoir, The Audacity of Hope.
And at the end of what was arguably the most vindicatory and legacy-insuring week of Obama's presidency, it once again became his touchstone as he moved from some of the most triumphant moments of his public career to one of the saddest. It may also have set the tone for the closing months of a rocky, historic presidency that now seems all about embracing change and the risk that goes with it.
It was an accident of timing that brought Obama, after two consecutive days in which the Supreme Court endorsed his policies on expanding health care and on gay marriage, to the altar of a black church to mourn people lost to the kind of racial hatred that his presidency was supposed to relegate to a dark chapter of American history. But it was a moment that neatly summed up his complex relationship with a civil-rights movement whose triumphs he was supposed to embody and that—somewhat controversially—he has tried to expand.
In 2008, Obama had to cut ties with his Chicago preacher during the campaign after provocative passages in Wright's sermons and some of his public remarks drew criticism as anti-Semitic, anti-American, and biased against whites.
On Friday, delivering the eulogy for Clementa Pinckney, a state senator and senior pastor who was one of the nine victims of this month's mass shooting at Emanuel AME Church, a historic black church in Charleston, South Carolina, it was Obama who became the preacher. And in what may be remembered as one of the most remarkable speeches of his presidency, he turned once again to Hebrews 11:1.
"The Bible calls us to hope," Obama said. "To persevere, and have faith in things not seen."
Joshua DuBois, a minister and Obama's former faith outreach coordinator, said the verse was apt for Obama's message. "It fit the purpose for this message," DuBois said. "He was talking about how for so many of the great prophets of Biblical history and contemporary history they didn't get to see the promised land."
Decrying a poisonous legacy of slavery and Jim Crow laws from the pulpit, Obama, who had gotten to know Pinckney in his 2008 campaign, said that "the Bible calls us to hope. To persevere, and have faith in things not seen." He continued speaking. Then he paused for what seemed like a long time. And then, to the visible surprise of the purple-robed ministers behind him, the president began to sing. First tentatively, in a pleasant if slightly uncertain voice that found its feet as it was joined by others. Swaddled by the chorus, the president of the United States was soon belting out "Amazing Grace," an anthem of redemption, about as unselfconsciously as anyone could have imagined.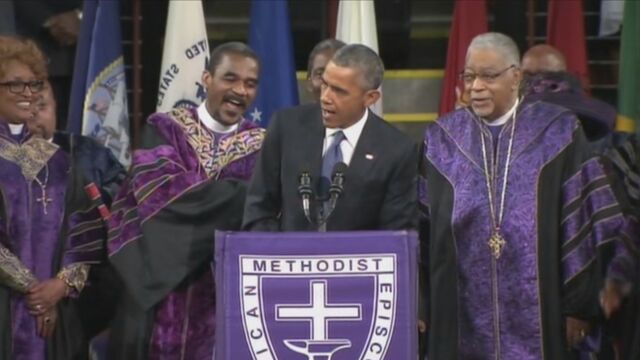 If what the scripture says on faith and hope fit what Obama wanted to say to make sense out of a massacre in Charleston that has united the nation, turned Southerners against the Confederate flag, and reignited a debate on guns, Hebrews 11:1 also seems to speak to Obama's political fortunes and his ambitions for the end of his presidency.
On Thursday, the Supreme Court upheld the Affordable Care Act, the health care expansion that was his signature domestic legislative achievement as he sought to make health insurance coverage a basic right for Americans. Then on Friday, the court ruled 5-4 to legalize gay marriage nationally, a cause Obama had come to cautiously but then embraced fully, taking it up in his second inaugural address and bringing it up again and again, culminating with the White House joining in the public celebration of the Supreme Court decision by bathing the mansion Friday night in lights that mimicked the rainbow flag of the gay-rights movement.

History suggests there may be risks to Obama's strategy. The extraordinary spectacle of the nation's president delivering an a cappella version of a spiritual in front of a packed church recalled an equally startling moment in civil-rights history: when Lyndon Johnson, in a 1965 address to a joint session of Congress, showed solidarity with black protestors by uttering the then-revolutionary-sounding words of another civil rights anthem. Speaking as "a man whose roots go deeply into Southern soil," the president told the nearly all-white chamber: "And we shall overcome."
In that March speech, Johnson was urging lawmakers to pass the Voting Rights Act. Four months later, when he signed it, he viewed his legislative victory as a political disaster, telling his then-legislative aide, Bill Moyers, "We just delivered the South to the Republican Party for a long time to come," a prediction that proved accurate.
With their exuberant embrace of the Supreme Court's decision legalizing gay marriage, Obama and Hillary Clinton have tied LGBT equality to the modern-day Democratic Party much as Lyndon Johnson tied racial equality to the party a half century ago.
Speaking from the Rose Garden of the White House on Friday shortly after the Supreme Court released its decision on gay marriage, Obama explicitly linked the crusade for gay rights to that of people of color, invoking the "Ripple of Hope" speech Senator Robert F. Kennedy delivered in Johannesburg in 1966 when South Africa's anti-apartheid movement was far from achieving its eventual success.
"What an extraordinary achievement," Obama said. "What a vindication of the belief that ordinary people can do extraordinary things. What a reminder of what Bobby Kennedy once said about how small actions can be like pebbles being thrown into a still lake, and ripples of hope cascade outwards and change the world."

Even amid the clear wave of growing national acceptance for gay rights, including the right to marry, there's a chance Democrats may jeopardize some support within sections of their base that have been slower to warm to gay marriage, including blacks, Hispanics, and Catholics.
That comes in a year in which the crowded Republican presidential field includes a number of candidates who could appeal to disaffected voters in those constituencies, including a conservative African-American, retired neurosurgeon Ben Carson; candidates of Cuban descent, Senators Marco Rubio of Florida and Ted Cruz of Texas; and former Florida Governor Jeb Bush, who says he speaks more Spanish than English with his wife, Columba, who was born and raised in Mexico.
And just as the Supreme Court's 1973 ruling in Roe v. Wade did not end but intensified the national debate over abortion, the justices' decisions last week appear likely to have created issues that will last at least for the duration of the 2016 campaign, if not beyond, based the reaction of many Republican presidential candidates to the rulings on health care and gay marriage.
Obama's would-be Democratic successors doubled down on Obama's expanded view of the social contract. Democratic nomination front-runner Clinton said more remains to be done. "For too many LGBT Americans who are subjected to discriminatory laws, true equality is still just out of reach," Obama's would-be successor said in a statement. "While we celebrate today, our work won't be finished until every American can not only marry, but live, work, pray, learn and raise a family free from discrimination and prejudice. We cannot settle for anything less."
Julian Zelizer, a history professor at Princeton University and LBJ scholar, said while Obama and Clinton do risk "that some Democrats might shift to the GOP because the changes with same-sex marriage are too much for them," compared to the 1960s, "my guess is the exodus will be much less severe." Public and political opinion on gay marriage has shifted much faster, even in racial and ethnic groups that have been more resistant. Millennial voters strongly support it in red states as well as blue.
The advocacy group Freedom to Marry, which tracks state and national public-opinion surveys on gay marriage, said support had grown among Hispanics, blacks, and younger evangelicals. It cited a 2013 Quinnipiac survey showing that 63 percent of Hispanics backed gay marriage; a 2012 Gallup poll showing 53 percent support among blacks; and a 2013 New York Times/CBS survey showing 62 percent of Catholics in favor.
And Republicans' "lukewarm support" for civil rights and immigration liberalization "will be enough to prevent most of these voters from shifting on this issue," Zelizer predicted.
As remarkable as the achievements of the past week are for a lame-duck president—vindication of his health care and gay marriage policy and the repudiation of the Confederate flag across the South—Obama's work is not finished nor is it likely to be to his satisfaction. He faces daunting challenges in the area of foreign policy. His desire for stronger gun control is likely to be thwarted.
But his Biblical inspiration suggests that the source of Obama's political strength is not just audacity but patience. Paul's letter to the Hebrews is about prophets who don't necessarily see the fulfillment of their work in their lifetimes. As Obama told the congregation at Pinckney's funeral, quoting Scripture: "They did not receive the things promised. They only saw them and welcomed them from a distance."