Relatives of Imprisoned Americans Want to Be Heard at Iran Talks
Indira A.R. Lakshmanan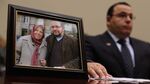 As foreign ministers gather in Vienna attempting to finalize a nuclear deal with Iran, relatives of two Americans imprisoned in the Islamic Republic are trying to make sure their loved ones aren't forgotten as diplomats spar over sanctions and centrifuges.
Three American men of Iranian descent -- a former Marine, a journalist, and a pastor -- are languishing in Iranian prisons, accused of threatening national security.
At the luxury Viennese hotel where the U.S. and five other powers are trying to reach an agreement to curb Iran's nuclear activities, siblings of two of the men spoke to journalists, worried that their brothers' fate may remain unresolved even if, or especially if, a nuclear deal is reached.
Now is the time when the U.S. has maximum leverage with Iran to free the men, many supporters, including lawmakers, have said.
Ali Rezaian came to Vienna to advocate for his brother, Jason Rezaian, 39. The Washington Post's Tehran correspondent was jailed in 2014 on accusations of espionage that his family, newspaper and the U.S. government say are false.
One of the charges against Jason Rezaian is that he spoke to people outside of Iran about exchange rates, inflation and oil prices -- information previously published in Iranian media and known to millions of Iranians, said Ali Rezaian, a 44-year-old biotech consultant from California.
Release Demanded
"I'm not a diplomat or a politician, I don't know what's optimal," Ali Rezaian said when asked if he fears the U.S. government will lose leverage to demand his brother's release if a final deal is inked. "What I know is that Jason is innocent, his detention is illegal by international and Iranian standards, and that's what everyone needs to know."
U.S. officials say that they demand the three men's release and information about a fourth American, a former FBI agent who went missing in Iran eight years ago, every time they meet with Iranian diplomats.
But the Obama administration also says the men's fate must be separated from the nuclear talks, that their release shouldn't be tied to nuclear concessions, and that Iran needs to release them with or without an accord in Vienna.
Some members of Congress have balked at that approach, calling the men "hostages." Many Republican lawmakers say Obama shouldn't make a deal allowing Iran to enrich uranium and revive its economy without bringing the Americans home.
Senator Marco Rubio, a Florida Republican running for president, unsuccessfully sought two months ago to make the men's release a condition for congressional approval to lift sanctions on Iran.
A Sister's Plea
In a hotel lobby next door to where the nuclear talks are taking place, the sister of another prisoner worries that her brother's case may get overrun by geopolitical machinations.
Amir Hekmati, 31, a Michigan native and former Marine, was visiting his grandmother in Iran when he was arrested and charged with espionage in 2011.
"My father's health situation is dire and Amir needs to be released immediately, as our family badly needs him," said Sarah Hekmati, 34, a social worker who, like Ali Rezaian, is working full-time for her brother's release.
Hekmati doesn't want the attention to the nuclear issue to overshadow the fate of the imprisoned Americans.
"Under Iranian law, he is eligible for amnesty, having served three years of his sentence. We hope by being here in Vienna, we can keep Amir's detention at the forefront of these negotiations," she said.