Mike Huckabee Says His White House Would Have a Nativity Scene
And he doesn't want to hear any whining about it.
By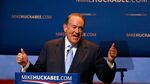 Republican presidential candidate Mike Huckabee didn't care for the rainbow-colored lights that adorned the White House on Friday after the Supreme Court decision legalizing same-sex marriage nationwide. He says a nativity scene is more his style.