Mike Huckabee Says His White House Would Have a Nativity Scene
And he doesn't want to hear any whining about it.
By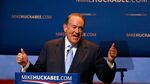 Republican presidential candidate Mike Huckabee didn't care for the rainbow-colored lights that adorned the White House on Friday after the Supreme Court decision legalizing same-sex marriage nationwide. He says a nativity scene is more his style.
"When the president lit up the White House the other night with rainbow colors, I guess that's his prerogative," the former Arkansas governor said on ABC's This Week. "If I become president, I just want to remind people, please don't complain if I were to put a nativity scene out during Christmas and say, 'If it's my house, I get to do with it what I wish, despite what other people around the country may feel about it."

Huckabee, a social conservative who won the 2008 Iowa caucuses, has called the court's decision "judicial tyranny." He's betting his supporters will agree with his opinion on the White House lights—and open their wallets to prove it.
"Just when you think the president has taken things as far as he can, he finds another way to take it one step further," he said in a fundraising e-mail on Saturday titled "UNBELIEVABLE picture of White House." "Are you ready to fight back against an out-of-control President and Supreme Court, and stand for the values we hold dear? As you saw yesterday, I have a plan to make this happen, but I need your financial support to win."