Tighter Security After Kuwait's Deadliest Bombing in Decades
Nafeesa Syeed, Fiona MacDonald and Vivian Nereim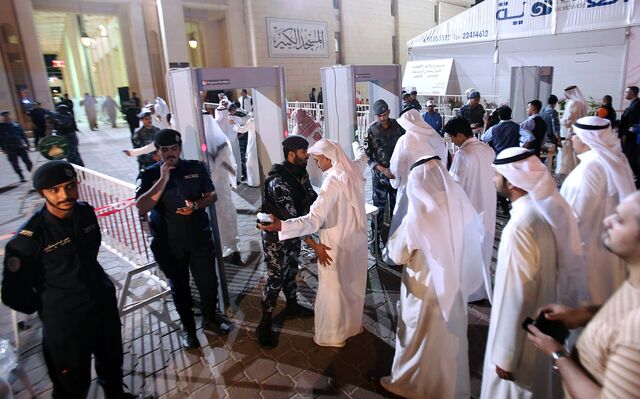 Authorities in Gulf Arab countries are weighing additional security measures after a suicide bomber killed 26 worshippers at a Shiite mosque in Kuwait last week.
Bahrain is studying installing security cameras at places of worship and on Monday, Kuwait's cabinet will discuss adding new security laws after Friday's attack, state-run Kuna news agency reported. Saudi officials will install security cameras at "important mosques" in each region, Saudi newspaper Okaz reported on Sunday.
Kuwait's worst bombing in decades has raised concern that sectarian attacks may spread elsewhere in the oil-rich Gulf Cooperation Council, as conflicts in Iraq and Syria deepen the divide between Sunnis and Shiites. Supporters of the militant Islamic State group in Saudi Arabia have killed dozens in assaults on Shiite religious targets this year.
"What is happening in Iraq and Syria has an impact on all the Gulf states. This has led to polarization among certain groups," said John Jenkins, executive director of the International Institute for Strategic Studies-Middle East. "The problem now is the wider regional context."
Beyond the Gulf, analysts pointed to militants from Islamic State's Sinai branch as likely perpetrators of the first attempt on the life of a senior Egyptian government official since 2013. Top prosecutor Hisham Barakat, a key figure in the prosecution of Islamists, was wounded when a bomb struck his convoy in Cairo on Monday.
Saudi Bomber
Kuwaiti authorities identified the suicide bomber as Fahad Suleiman Abdulmohsen al-Gabbaa, a Saudi national born in 1992. Saudi authorities hadn't dealt with al-Gabbaa on terrorism matters, the Saudi interior ministry said on Twitter.
He belonged to a group of activists who campaigned for the release of detainees in the Kingdom, and several of his relatives have been imprisoned on terrorism and incitement charges, Saudi-owned newspaper al-Hayat reported.
At least three suspects have been arrested, including the man who drove al-Gabbaa to the mosque and the owner of the house where the driver was staying, Kuwait's Kuna news agency reported.
The house owner is well known to security agencies, a Kuwaiti official said, speaking on condition of anonymity to discuss the investigation.
Kuwait's Interior Ministry said the man who drove the bomber to the mosque was an "illegal resident." He was found hiding in a home owned by a supporter of "extremist, deviant thought," the ministry said.
The country's health ministry has started an online campaign to help parents prevent "ideological perversions and behavioral problems" and learn to recognize the signs that their sons belonged to "suspicious groups," according to Kuna.
Stocks in Dubai, the Middle East's commercial hub, led regional declines on concern militants could target other Arab Gulf nations. Dubai's benchmark DFM General Index lost 0.6 percent on Monday, taking its drop in the past two days to 2.8 percent. Kuwaiti shares declined 0.2 percent for the second day.
Islamic State
Even before the attack, Saudi authorities had already boosted security in the kingdom, which is part of a U.S.-led military coalition bombing Islamic State targets in Syria.
The al-Qaeda breakaway group also claimed responsibility for the Kuwait bombing. The assault was one of four major militant attacks in Europe, the Middle East and Africa on the same day, a year after Islamic State declared a so-called caliphate in areas under its control in Iraq and Syria.
A gunman killed at least 38 people, including foreign tourists, in the Tunisian resort town of Sousse. There were also attacks at a gas plant near Lyon in southeastern France owned by Air Products & Chemicals Inc., where a person was decapitated, and at a base in Somalia where Al-Shabaab militants said they killed about 30 African Union peace keepers.
Shiites make up about 30 percent of Kuwait's indigenous population. If the attack was planned to deepen divisions between the two country's two sects, it "failed completely," said Ayed Al-Manna, a Kuwaiti political analyst and newspaper columnist.
"There's no reaction or what they expected as a reaction from the Shiites. Kuwaitis showed their solidarity with each other," Al-Manna said.
Before it's here, it's on the Bloomberg Terminal.
LEARN MORE