Supreme Irony?
Presidential candidates have more success running against justices than making them do what they want.
By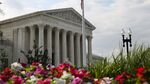 A pair of landmark rulings, upholding a key component of President Barack Obama's health-care law and legalizing same-sex marriage across the nation, has some Republican presidential candidates waging war against the Supreme Court.
"Imperial," former Arkansas Governor Mike Huckabee called it. "Radical," said Senator Ted Cruz of Texas. "Completely out of control," inveighed Louisiana Governor Bobby Jindal.
Running against the Supreme Court goes back at least to the 1960s, when the court headed by Chief Justice Earl Warren made decisions on civil rights, the rights of criminal defendants and school prayer that made the justices a favorite target of Republican candidates. There was even an Impeach Earl Warren movement, complete with billboards, the preferred social medium of the day.
Like Chief Justice John Roberts, Warren, who headed the high court from 1953 to 1969, was appointed by a Republican president (Dwight Eisenhower). But unlike Roberts, he headed a court dominated by Democratic appointees. Five of the nine currently sitting justices were picked by Republican presidents. And while Roberts upheld Obamacare, he has sided with his more conservative brethren on same-sex marriage and other issues like campaign spending limits and voting rights.
Later, Ronald Reagan frequently cited his intention to nominate justices who would overturn the 1973 Roe v. Wade case that made abortion legal nationwide in his successful 1980 campaign for the presidency. In his eight years in office, Reagan and his longtime aide, Edwin Meese, implemented an elaborate ideological testing process to ensure that the president's judicial nominees were true conservatives. Reagan's impact on the Supreme Court was arguably greater than any other recent president; he added three justices to the high court and elevated William Rehnquist to chief justice.
Reagan's successor, George H.W. Bush, the father of current candidate Jeb Bush, appointed David Souter to the Supreme Court. Justice Souter ended up becoming a cautionary tale for the conservative legal movement after he tacked left on major issues like abortion and gun rights. His parting gift to the party that tapped him for the court was to retire in 2009, at the relatively young age of 69, letting the newly elected Democratic President Obama name his replacement.
It's worth remembering while members of the current Republican field try to one-up each other in vilifying the justices—"unaccountable," said former Senator Rick Santorum; "robed Houdinis," fumed Cruz—that presidents can't always predict what their nominees will do. The majority opinions in both the Obamacare and gay marriage decisions were written by Republican nominees: Chief Justice John Roberts, nominated by President George W. Bush, and Justice Anthony Kennedy, who was brought to the court by none other than Reagan. Justice Elena Kagan, Obama's solicitor general before he nominated her to the court, voted with conservatives in 2012 to make Obamacare's Medicaid expansion optional for states, a decision that significantly limited the reach of the president's signature achievement.
Still, Republican presidential hopefuls want to signal to the base that they'll nominate justices who won't be led astray. "[W]e will need a conservative president," said Wisconsin Governor Scott Walker, "who will appoint men and women to the Court who will faithfully interpret the Constitution and laws of our land without injecting their own political agendas."