Chris Christie Unveils Presidential Campaign Website
After an announcement Tuesday Christie plans to travel to New Hampshire, his campaign says.
By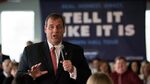 New Jersey Governor Chris Christie on Saturday unveiled a presidential campaign website ahead of his formal kickoff Tuesday.
The slogan "Telling It Like It Is" appears on the site, a nod to the Republican's reputation for blunt talk in a state dominated by Democrats. A disclaimer says "Paid for by Chris Christie for President, Inc." He posted a link to the site from his verified Twitter account.
A "special announcement event" is set for Tuesday at 11 a.m. local time at Livingston High School in Christie's hometown, said a press release from his campaign on Saturday. That evening, he plans to hold a town hall-style meeting—a staple format of his time as governor—in Sandown, New Hampshire, according to the release.
Christie will become the 14th candidate to join the Republican presidential primary contest for 2016, after months of travel to early-voting states and a stint as Republican Governors Association chairman that took him around the country to raise funds and campaign for others following his decision not to join the 2012 presidential race.