China Cuts Interest Rates to a Record Low After Stocks Slump
Bloomberg News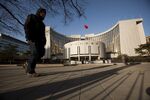 China's central bank cut its benchmark lending rate to a record low and lowered reserve-requirement ratios for some lenders after stocks plunged and local government bond sales drained liquidity.
In the fourth reduction since November, the one-year lending rate will be reduced by 25 basis points to 4.85 percent effective June 28, the People's Bank of China said on its website Saturday. The one-year deposit rate will fall by 25 basis points to 2 percent, while reserve ratios for some lenders including city commercial and rural commercial banks will be cut by 50 basis points, according to the statement.
The easing follows the biggest two-week plunge in the stock market since December 1996 and a four-week rise in money-market rates as lenders hoard cash. While industrial production and retail sales stabilized in May, investment slowed further -- a sign of weakness in infrastructure spending that policy makers are keen to reverse.
"The central bank doesn't want a panic caused by the stock rout to spread," said Shen Jianguang, chief Asia economist at Mizuho Securities Asia Ltd. in Hong Kong. "That would lead to financial instability."
Premier Li Keqiang has set a growth target of about 7 percent for 2015, which would be the slowest annual expansion since 1990. Policy makers are juggling the need to keep growth from slipping too far with plans to press ahead with reforms.
Global Easing
PBOC Governor Zhou Xiaochuan's latest move adds to a global wave of monetary easing. South Korea and New Zealand are among the latest to lower their key rates as China's weakness combined with domestic dynamics to argue for further stimulus.
The Shanghai Composite Index sank 7.4 percent on Friday, taking its decline from its June 12 high to 19 percent, on the cusp of a bear market.
"A plunge at that pace could have forced margin calls and another round of selling, leading to a stampede," said Lu Ting, Chief Economist at Huatai Securities Co. "So avoiding panic in the financial market and protecting market confidence is part of the consideration."
The government has escalated efforts to prevent a hard landing, adding fiscal loosening to monetary easing. It has doubled the size of a debt swap program, offering local governments cheaper financing to alleviate a funding crunch.
Local governments are set to issue about 2.8 trillion yuan ($451 billion) of debt this year, adding a strain on liquidity. The Ministry of Finance this week failed to meet its target at a bond auction for the first time since July 2014 amid the surge in municipal issuance.
PBOC Easing
The PBOC's easing has been four pronged. Lower interest rates reduce repayment expenses for the nation's indebted businesses; cuts to banks' reserve ratios gives them more scope to lend; money market operations aim to add liquidity; while targeted injections to banks channel funds to preferred projects such as shanty town redevelopment.
Past moves, such as an interest-rate cut announced May 10, have also followed selloffs in the share market.
"With economic growth still weak, inflation far below the PBOC's target and a slumping equity market, monetary policy had to be eased," Zhao Yang, Chief China economist at Nomura Holdings Inc. in Hong Kong, wrote in an e-mail. "The magnitude is stronger than expected. I believe it's closely related to the stock market plunge."