Tears of Joy Flow From California to Georgia on Marriage Ruling
Mark Niquette and Margaret Newkirk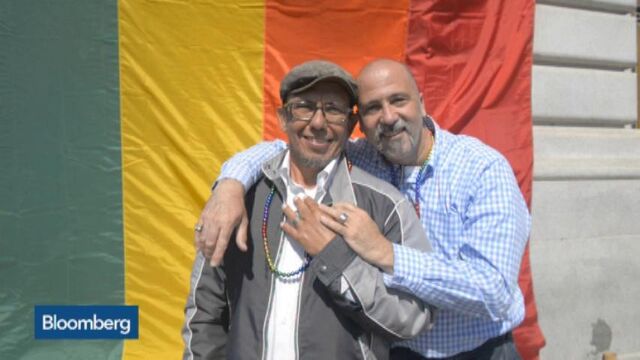 Christal Presley and Margaret Jane Trivett planned to get a puppy. They got married instead.
Presley, 36, and Trivett, 55, were the first to wed on the courthouse steps in Atlanta Friday morning after the U.S. Supreme Court legalized gay marriage in Georgia and the 13 other states that still prohibited it.
"This is the best day of my life," Presley said.
From California to Georgia, supporters of same-sex marriage celebrated and rushed to courthouses to get licenses after the court ruled that same-sex couples have a constitutional right to marry in all 50 states.
A crowd of about 200 people gathered outside San Francisco City Hall, whose facade was draped with a giant rainbow flag for Gay Pride weekend. Cars honked as they passed by.
"It's a wonderful day in America that love wins," said Roby Chavez, 51, who was holding his son and standing next to his husband, Chris.
"It's a remarkable experience for us to know that our children are going to grow up in a country where we can go to any state and our marriage will be respected," he said.
Georgia Honking
In Atlanta, car horns were blasting after the ruling at 10th and Piedmont, a busy intersection of shops and restaurants in Atlanta's gay-friendly midtown neighborhood. Georgia's state constitutional ban on gay marriage, in place since 2004, was voided by the high court's ruling.
Audrey Miles, 45, a small-business developer in Atlanta, was waving signs that she had made on construction paper reading, "Love" and "We Did It." She had spent the morning glued to her computer for news, she said.
"I cried, then I jumped up and down," she said after the ruling came.
Tommy Dorfmann, 23, and Peter Zurkuhlen, 27, were waiting for their baggage at Atlanta's Hartsfield–Jackson Atlanta International Airport when Zurkulen's father sent a text message: "The Supreme Court did the right thing."
They are engaged and had planned to wed in their current home in New York City, where same-sex marriage has been legal for four years. They were considering doing it Friday in Atlanta, where the county probate court began issuing licenses Friday morning.
"I'm the youngest of five, and all my siblings got married in Georgia," said Dorfmann. "I was an outsider, and now that it's legal, I could actually do it here."
Barb Byrum, the clerk in Ingham County, Michigan, had already performed one same-sex wedding and processed a marriage license for a gay couple in the first two hours after the ruling, and she expected there would be more Friday.
She said she would keep her office open late to accommodate any couples who wanted a marriage license on the day the court ruled.
"I'm ecstatic," Byrum said. "I'm just so thankful that finally we've gotten this far."
Screams, Tears
For Stephen Tosha, a vice president and financial adviser at Morgan Stanley in Dallas, the ruling means his home state for the past 20 years, Texas, must now recognize his marriage to Stephen Strecansky.
The couple wed in New York in 2012 in a small private ceremony and now plan to hold a big event with as many as 200 people to marry again in Dallas this year.
Tosha, who was exercising when the news broke, and Strecansky, a pediatric nurse and a composer who was playing the piano at the time, broke into screams and tears upon hearing the news on the television.
"Nobody can't take it away from you," said Tosha, who's celebrating his 53rd birthday Friday as well. "The governor, the state, the people that are conservative -- they can't take it away from you. And it just feels very freeing."
Next Step
Tosha said he hopes the next step will be eliminating workplace discrimination, which gay-rights groups say is now their focus. In 28 states, employers still have the legal right to fire workers for their sexual orientation.
Opponents of gay marriage will continue opposing the unions, just as foes of abortion still fight against the court's 1973 ruling legalizing the procedure, said Phil Burress, chairman of Citizens for Community Values in Cincinnati. His group led an effort for a voter-approved ban in Ohio in 2004.
"The Supreme Court is not the supreme authority on this," Burress said. "They cannot force us to accept something that is so wrong."
Maureen Kilian and Cindy Meneghin of Butler, New Jersey, retrieved a bottle of Prosecco that they had refrigerated exactly two years ago, when the court struck down part of the Defense of Marriage Act.
Plaintiffs in a 2002 lawsuit that led to New Jersey's legal recognition of marriage, the couple postponed opening the bottle at their 2013 wedding in hopes of one day toasting a Supreme Court ruling.
"We can travel anywhere in our own country and be married, and be protected and be honored," said Meneghin, director of student communications for Montclair State University.