Autos
Stirling Moss's Porsche RS61 Speed Demon Up for Auction
The legendary British driver's car could fetch $3 million, according to Bonhams
By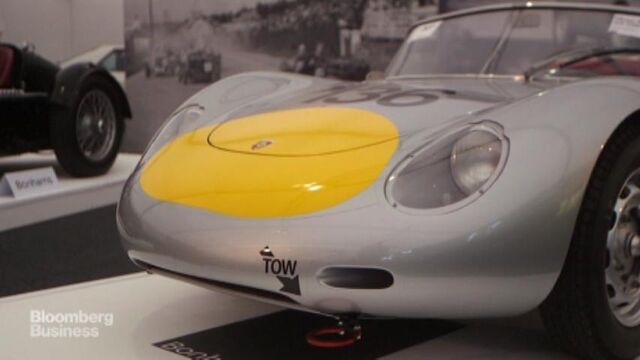 In the world of motorsport, Stirling Craufurd Moss is somewhat of a legend. The British driver's career began in 1948, and over the following 12 years he won more than 200 races—although crucially never the Formula 1 World Championship.
That history can have a monetary value, according to James Knight, motoring director of Bonhams. The auction house is putting up for sale a 1961 Porsche RS61 formerly owned by Moss, with a high estimate of 2 million pounds ($3.1 million).
"It's one of the star cars," says Knight, standing in the Bonhams marquee at the Goodwood Festival of Speed in the U.K. "He absolutely loved the car and Stirling is not a man to keep cars and not use them."
The Porsche has the kind of 1960s styling that simply looks fast: Smooth silver bodywork contrasts against the bright red upholstery behind a wraparound windscreen. Just don't touch it.
Classic motorcars have long been a popular alternative investment, although this Porsche hardly seems one for the casual collector. Knight says there are always opportunities to catch the next generation of classics.
"It's always evolving and moving," Knight says. "We're offering cars in today's sale that, quite frankly, 10 or 15 years ago may not have been regarded as collectors' cars."
The Bonhams sale takes place on June 26 at the Goodwood Festival of Speed, which runs until June 28.
With reporting by Austin Brown.
Before it's here, it's on the Bloomberg Terminal.
LEARN MORE