PayPal to Trade From July 20 Under Symbol PYPL After EBay Split
Spencer Soper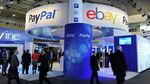 EBay Inc.'s PayPal unit is on track to begin trading on July 20 under the stock symbol PYPL, as the company splits into two businesses, with one focused on online commerce and the other on digital payments.
Stockholders will receive one PayPal share for every EBay share. The board formally approved the split Friday, the company said in a statement. PayPal, like its parent, will trade on the Nasdaq stock market.
EBay and PayPal will operate under a five-year agreement that will guarantee a reliable source of revenue for PayPal after the separation. An independent PayPal will be freed up to forge alliances with retailers and other financial firms, as Google Inc. and Apple Inc. seek to turn their products into tools for digital payments. EBay's marketplaces business, which is facing competition from Amazon.com Inc. and Alibaba Group Holding Ltd., has seen revenue growth lagging behind PayPal, which it bought in 2002.
"As separate, independent companies, EBay, led by Devin Wenig, and PayPal, led by Dan Schulman, will each have a sharper focus and greater flexibility to pursue future success in their respective global commerce and payments markets," outgoing EBay Chief Executive Officer John Donahoe said in the statement.
The new PayPal shares will trade from about July 6 on a proforma basis, be issued on July 17, and begin trading regularly from July 20, unless any unforeseen circumstances emerge, EBay said.