Obama Assails Confederate Flag, U.S. Gun Policies in Eulogy
Angela Greiling Keane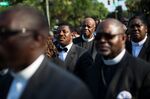 President Barack Obama called the Confederate battle flag a symbol of racism and said the U.S. must enact stronger gun controls as he eulogized a Charleston pastor slain in an attack at his church.
"For too long, we were blind to the pain that the Confederate flag stirred," Obama said Friday at the University of Charleston. "The flag has always represented more than just ancestral pride. For many, black and white, the flag was a symbol of systemic oppression and racial subjugation."
Obama spoke for nearly 40 minutes before about 5,500 people at a memorial service in a gymnasium near the church where Clementa Pinckney, 41, was among nine people shot and killed. His speech, at turns impassioned and somber, periodically brought the crowd to its feet. At one point, as he spoke the lyrics of the hymn "It Is Well," the band spontaneously accompanied him.
Obama concluded by leading the audience in singing the hymn "Amazing Grace." The president, who rarely sings in public, began acapella. Before he got to the end of the first line, the crowd had risen to its feet to join in, along with the robed choir standing behind him.
Once again, Obama called on the nation to strengthen regulations on guns.
"Whatever solutions we find will necessarily be incomplete," Obama said. "But it would be a betrayal of everything Reverend Pinckney stood for, I believe, if we allowed ourselves to slip into a comfortable silence again."
Hate Crime
Pinckney was the pastor of Emanuel AME Church and a Democratic South Carolina state senator. Authorities say that Dylann Storm Roof, 21, who is white, shot Pinckney and his congregants during a Bible study on June 17 at the black church. The case is being investigated as a hate crime.
"For too long, we've been blind to the unique mayhem that gun violence inflicts on this nation," Obama said. "Sporadically our eyes are open."
In remarks on June 18, Obama said it's unlikely the current Congress, where both chambers are controlled by Republicans, will enact new gun-control laws.
Before Obama spoke, area pastors and family members remembered Pinckney, with one speaker recalling the pastor's excitement over his wife's positive pregnancy test.
The speech was Obama's eighth at the site of recent mass violence in the U.S. but the first time he knew one of the people killed.
Flag Removal
Obama also praised South Carolina governor Nikki Haley, a Republican, for demanding that the Confederate battle flag be removed from the grounds of the state capitol after the Emanuel AME shooting. Roof had posted pictures online of himself with the flag.
Haley's "recent eloquence on the subject is worthy of praise," Obama said, drawing murmurs of agreement from his audience.
Obama and Pinckney "formed a bond back in 2007 when they were campaigning early on in the president's effort to get to the White House," Eric Schultz, deputy White House press secretary, said last week.
Obama said he did not know Pinckney well. He recalled Pinckney's work as a state legislator representing a district near the church but demographically distant from Charleston's historic mansions.
'Inadequate Schools'
"As a senator, he represented a sprawling swath of the Low Country, a place that has long been one of the most neglected in America, a place still wracked by poverty and inadequate schools, a place where people can still go hungry and the sick can still go without treatment," Obama said.
Obama traveled with Vice President Joe Biden and First Lady Michelle Obama, and met with families of the victims. Lawmakers led by House Speaker John Boehner, an Ohio Republican, also attended. Boehner was among eight lawmakers who flew to Charleston on Air Force One with Obama. For Boehner, it was his first time on the plane with Obama.
Democratic presidential candidate Hillary Clinton and members of Martin Luther King's family were in the audience at the service.
Before it's here, it's on the Bloomberg Terminal.
LEARN MORE