Tsipras Meets With Merkel, Hollande Before Saturday Aid Decision
Helene Fouquet, Patrick Donahue and Eleni Chrepa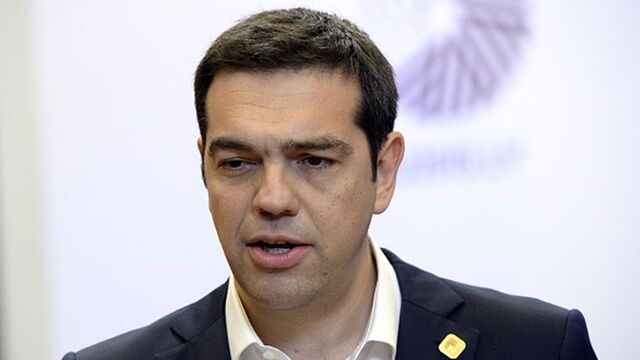 Greek Prime Minister Alexis Tsipras met with German Chancellor Angela Merkel and French President Francois Hollande Friday ahead of a weekend that may decide the country's fate in the euro.
Officials are now negotiating almost around the clock to find a breakthrough before the country's bailout expires June
30. With banks from Credit Suisse to UniCredit AG warning that capital controls are possible as soon as Monday in the absence of a deal, Merkel and other European leaders have told their finance ministers to clinch a deal at an emergency meeting in Brussels Saturday.
"Saturday has taken on a decisive significance, because time is short," Merkel told reporters in the early hours of Friday. European leaders "agreed that everything must be done to find a solution on Saturday," she said.
Hopes of a deal were first raised -- and then dashed -- when Tsipras came to Brussels earlier this week with a set of proposals that were welcomed as the first credible plan from his government, only to push back when more cuts were demanded. During their meeting Friday, Tsipras told Merkel and Hollande that his government couldn't understand why the country's creditors insisted on harsh austerity measures, a Greek government official said in an e-mailed statement.
The shifting sentiment around the prospects of a deal is mirrored in the country's volatile markets. The Athens Stock Exchange Index, which opened more than 1 percent lower Friday, pared losses after news of Tsipras's talks was announced. The index was trading 0.2 percent lower at 1 p.m. in Athens. It's still up about 14 percent this week, having rallied on expectations of a deal earlier. Prices in the government bond market, where liquidity is thin and trading scarce, were unchanged. The yield on the two-year bond stood at 21.5 percent, down from more than 30 percent a week ago as some investors remain hopeful an accord will be reached.
Durable Accord
The Greek impasse is hanging over a European Union summit which was slated to discuss Europe's immigration crisis and the U.K.'s drive to hold a referendum on EU membership. Rather than clinch a deal on Greece during the two-day gathering that started Thursday, euro-area leaders refused to discuss it in detail and only exposed the confusion and frustration at play.
"We must do everything to reach a global and durable accord," Hollande said. "Greece must make proposals that will allow institutions to enter a conclusive phase."
An EU official said earlier that without a deal this weekend, ministers would have to map out ways to manage the potential consequences of a Greek default.
"Deadlines in Europe are rarely cast in stone," Holger Schmieding, chief economist at Berenberg, said in a note to clients. "But with five Eurogroup meetings in little more than a week and almost constant talks between the leaders of the creditor institutions and Athens, the patience of creditors is running out."
Home Front
Tsipras, who has been in Brussels all week, insists his government brought credible proposals to the table and that some of his colleagues were being inflexible, according to a Greek official with knowledge of the talks. Differences with creditors -- the International Monetary Fund, the European Central Bank, the European Commission -- remain over the extent of pension reform, sales-tax increases and whether to include debt relief.
Tsipras faces the difficult task at home of winning support from his own lawmakers on any package that runs against his Syriza party's pledge to end austerity. If the government is faced with an agreement that is against its campaign promises made ahead of the Jan. 25 election, it may be forced to seek a fresh mandate, Labor Minister Panos Skourletis said in an interview with Mega TV on Friday.
"If Greece's government faces dilemmas that are outside its mandate, it will turn to the Greek people to overcome them," Skourletis said in a sign that a referendum or new elections may be on the cards.
Tight Deadlines
With no follow-on financing in place, Greece may struggle to pay 1.5 billion euros ($1.7 billion) it owes the IMF at the end of the month. Failure to close a deal by the weekend raises the odds that Greece might have to impose capital controls to prevent a run on its banks. Greeks have withdrawn about 20 percent of deposits held by the nation's lenders this year as concern of an exit from the euro intensified.
Credit Suisse analysts wrote in a note to clients that capital controls couldn't be excluded on Monday if a deal isn't struck over the weekend. On Friday, The European Central Bank left the level of emergency cash available to Greek banks unchanged for a third day, people familiar with the decision said. The ECB is assessing almost daily banks' capital levels.
Read this next:
"Ideally, the aim was to strike a deal in time to allow the Greek government to pass legislation before markets open on Monday, and then have some national parliaments approve the deal in the very next days, so as to allow the disbursement of the loan tranche just before IMF payments come due," Martina von Terzi, an economist at UniCredit Bank AG, wrote in a note to clients. "But the risk is growing that this timeline will prove too optimistic."