Massacre Probe Buoys Ramaphosa's South Africa Presidential Hopes
Mike Cohen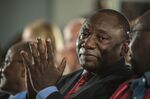 South African Deputy President Cyril Ramaphosa's chances of becoming the nation's next leader were buoyed after he was cleared of blame for the police shooting of 34 miners at Lonmin Plc's Marikana platinum mines in 2012.
A commission of inquiry found that allegations by lawyers for the victims' families that Ramaphosa spurred the violence when he urged the government to end an illegal strike to protect his commercial interests were "groundless." Ramaphosa, 62, was a non-executive director of Lonmin at the time of the killings and chairman of Shanduka Group Ltd., which indirectly held a 9 percent stake in two of Lonmin's South African units.
"It's a great boost," Somadoda Fikeni, a politics professor at the University of South Africa, said by phone from Pretoria. "He has a head start in the presidency race. At this stage his chance of winning are above 50 percent and he has to consolidate on that."
The key for Ramaphosa to become the next president is to win the leadership of the African National Congress, which has ruled South Africa since the end of apartheid in 1994, at its national conference in 2017. Under party rules, the winner will be its presidential candidate when Jacob Zuma steps down in 2019 after serving a maximum two terms.
Zuma released the report of the independent inquiry into the Marikana killings in a nationwide address on Thursday.
Presidential Contenders
"A Ramaphosa presidency would buoy investor confidence," Mike Davies, founder of political advisory company Kigoda Consulting, said Friday by phone from Cape Town. "They would be optimistic that he would represent a change of guard and a shift in direction to one that is a bit more pragmatic, organized and policy orientated."
Other contenders include party treasurer-general Zweli Mkhize and Nkosazana Dlamini-Zuma, the president's ex-wife and chairwoman of the African Union Commission. Like Zuma, both hail from KwaZulu-Natal province, which accounts for more than a quarter of the ANC's membership.
Ramaphosa is a Venda, a small ethnic group from the north east of South Africa, and that will count against him in the presidential race, according to Pierre du Toit, a politics professor at the University of Stellenbosch near Cape Town.
"I don't ever think he's been in the running," Du Toit said by phone. "The power base of the ANC is in Kwazulu-Natal. I think the next leader will come from KwaZulu-Natal."
Union Background
Ramaphosa trained as a lawyer and in 1982 co-founded the National Union of Mineworkers, which became South Africa's biggest labor group. He led the ANC team that negotiated an end to white minority rule, before quitting politics in 1996 for business. He was beaten to the post of deputy president by Thabo Mbeki, who served under South Africa's first black president, Nelson Mandela.
By the time he returned to politics in December 2012 after he agreed to serve as Zuma's deputy in the ANC, he was the second-richest black South African after his brother-in-law Patrice Motsepe. Besides its stake in Lonmin, his Shanduka entered into a coal-mining venture with Glencore Xstrata Plc and secured stakes in companies including MTN Group Ltd., Bidvest Ltd. and Standard Bank Group Ltd.
In e-mails written to Lonmin executives in the lead-up to the Aug. 16, 2012 police shootings, Ramaphosa undertook to try to persuade the government to address strike-related violence at Marikana that claimed 10 lives.
Defusing Situation
Ramaphosa, who was branded a murderer and sell-out by protesters when he appeared before the Farlam Commission in August last year, said his intervention was aimed at trying to defuse the situation and preventing further casualties.
"When I said those responsible for the violence should be brought to book, I anticipated that the police would investigate and ensure the right people were arrested," he testified. "I deeply regret the deaths."
In its 646-page report released on Thursday, the commission of inquiry led by retired Judge Ian Farlam dismissed accusations that Ramaphosa was the cause of the massacre.
Ramaphosa "had no reason to believe that the South African Police Services would launch the precipitate, ill-planned and poorly commanded operations, which led to the deaths of 34 miners," the commission said.
Instead, the report criticized the police's handling of the situation as deficient and said prosecutors should consider charging them. It also called for an inquiry into Police Commissioner Riah Phiyega's competence to hold office.
"Ramaphosa is definitely still in the running for the presidency," Theo Venter, a political analyst from North-West University, said by phone from Potchefstroom, southwest of Johannesburg. "What is missing is to define his constituency within the ANC."